I have to be honest, I did not expect to find something like this in Montenegro. I am now talking about the hotel and the Portonovi district, which reminds me remotely of New Born in Minsk, not in style, but in the concept of landscaping and safety of houses (I also wrote about this place, you can find the post at the link). And today I will tell you about the town of Portonovi, which combines Mediterranean flavor, amazingly beautiful views of Boca Bay, luxury residences for living, a world-class marina, and the first One&Only hotel in Europe.
.
One&Onle are beach, urban and eco resorts and private residences. They are first-class examples of style and comfort. Picturesque landscapes and a unique entertainment program make One&Only resorts located on coasts, in natural reserves and the most beautiful cities in the world, into ideal vacation destinations. The One&Only brand was ranked #5 on the list of the "25 Best Hotel Brands in the World" by the World's Best Awards in 2020. The brand itself was founded in 2002 and is managed by Kerzner International Holdings Limited. All properties of this hotel chain are located in uniquely beautiful and culturally enchanting corners of the planet. The brand's philosophy is "We create joy", so a whole collection of adventures and unforgettable experiences awaits its clients.
This is the first resort in Europe (and now a hotel of this brand is being built in Greece), built by the world-famous One&Only company. Here, as in other hotels of the chain, every aspect of a guest's vacation is carefully thought out. From the beautiful apartments and villas to the famous Chenot Espace restaurants and spa centers.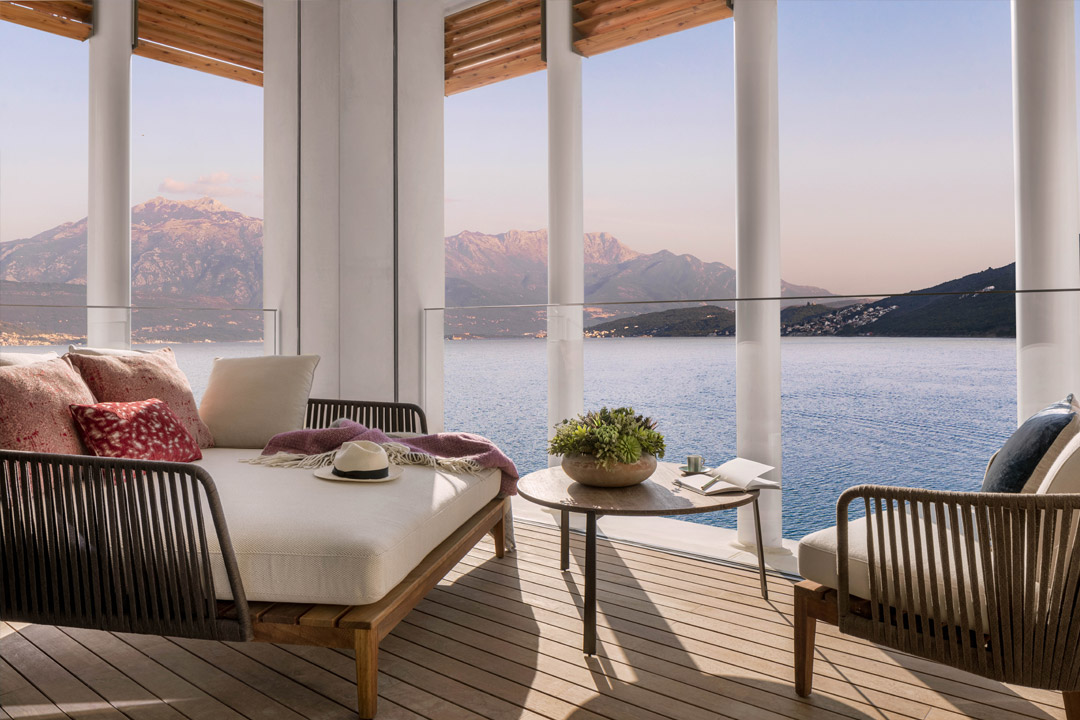 The hotel is located in a closed picturesque place on the shore of Boko-Kotor Bay. And it is the perfect place to explore Montenegro and the Montenegrin coast. Here you can rent a yacht and a rare Alfa Romeo, a sailing board for surfing, or just spend the day at the hotel, sunbathing on the snow-white closed beach.
The hotel also owns 10 luxurious villas. Buying or renting one of them, you can enjoy absolute tranquility and comfort. Each villa is unique and inimitable. The cost of buying them is certainly frighteningly repulsive, but I decided to share this information with you anyway, so that you would have an idea and complete information about this place.
These waterfront villas have a stunning level of style and comfort, as well as a private beach, a dedicated jetty, a landscaped pool and a garden with breathtaking views of the bay. The 3 and 4 bedroom villas range in size from 561m2 to 871m2 and prices from €9.855 million to €15.285 million.
Whether they are worth their money is hard to say. No, it's not. I'd like to say they are (because I really like this place), but definitely not. 10 million euros (and that's cheap itself) for a villa in Montenegro? No matter what it is not, no matter what plushies the hotel gives (and they are not so many, there are no free dinners in restaurants and breakfasts) – to the owners of these villas, but for this money you can buy a luxury villa on the azure coast of France or a historic villa on Lake Como in Italy. And I know what I am talking about, because I spent more than one week – personally studying real estate in these places.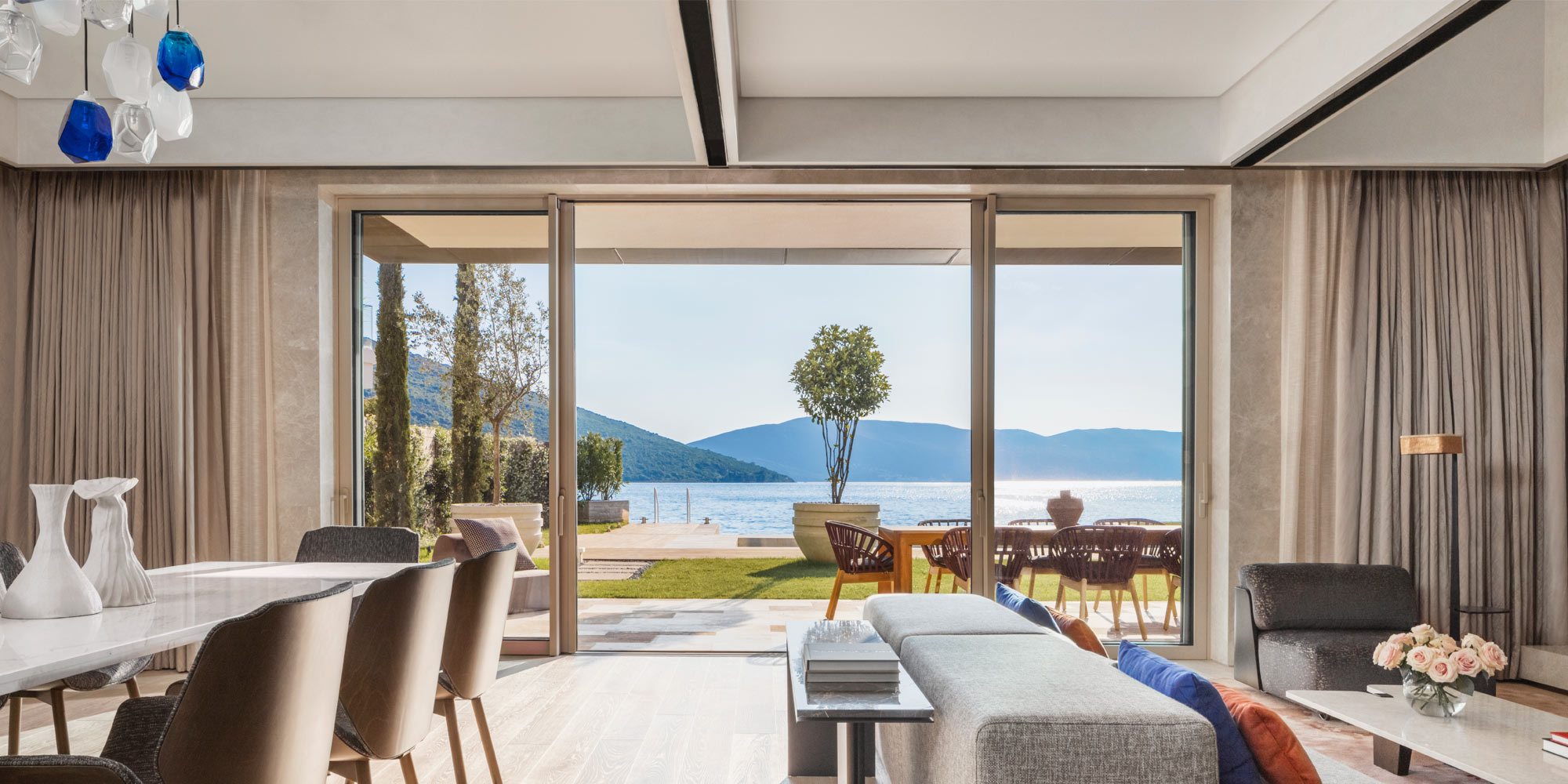 But the place is beautiful, see for yourself. I recommend booking a hotel through Booking (I love them and always use them myself), there you can see the prices and choose the most convenient dates for yourself. By the way, I was in this place in November!
We were in November and there weren't that many guests.
Those One&Only villas
I love these concise shapes, natural colors and materials. Very stylish!
And the sea here is luxurious. Although it should be noted that it is still a bay and the water is not crystal clear.
And the yacht club is beautiful and modern, gives its own special charm to the place!
And those mountains! It's beautiful. Lake Como comes to mind!
The waterfront at sunset is lovely.
There are no fences or boundaries between some of the private hotels and the neighborhood. Everything forms one comfortable and beautiful space.
District Portonovi
But there is also more "affordable" housing here. A huge residential complex with Portonovi houses and apartments. Each of these harmoniously fitting houses was designed by renowned architects. These are open-plan houses and residences. All properties are divided into categories: The Village Residences, The Marina Apartments, Sky Villas and One & Only Private Homes (which I described above). There's plenty of space to relax, socialize and have fun, as well as easy access to numerous cafes, stores, gyms and bars.
As with the One&Only hotel, I want to tell you about the prices. In my opinion – they are very, very overpriced. There are conditional reasons for this (according to the developer, but I don't want to talk about it in my blog). Despite the prices, the place is really nice, and if you choose something to live in Montenegro, I would probably choose this place (or Porto Montenegro, which I will tell you more about). The rent is on average 1,5-2 thousand € per month, which is still expensive, but considering the gorgeous summer at the sea and some of the perks (gym, swimming pools, etc.) – not bad.
SKY VILLA are 3 and 4 bedroom penthouses with panoramic mountain and sea views. They have their own landscaped pools and elevator access. The area from 598 m2 to 659 m2. Prices from 5.86 million € to 6.58 million €.
APARTMENTS MARINA – is an apartment with 1, 2, 3 and 4 bedrooms. Here – panoramic views of the sea and mountains, first-class location on the waterfront with direct access to the marina. Area from 41m2 to 659m2 – Prices from 310,000 € to 6.58 million €.
RESIDENCES "THE VILLAGE" are residences with 1, 2, 3 and 4 bedrooms in low-rise houses, without magnificent views, but with cozy gardens and "access" to nature. THE VILLAGE – 43 private gardens and 13 private pools – Area from 74m2 to 382m2 – Prices from 530,000 € to 3.37 million €.
The low-rise development of "THE VILLAGE" residences is the most attractive for me. Olive, tangerine and lemon trees, ponds, fountains and cozy benches in quiet places – definitely make this part of the district the most cozy!
Portonovi has a website where you can see more pictures and find useful information. This is not an advertisement.