Undoubtedly, at the mention of Turkey many people still have unpleasant associations with all-inclusive vacations, noisy drinking tourists and scandals. In part, such a vacation still takes place. But today, I will tell you about another Turkey. Turkey, as not everyone knows it. And although the word "European" has long lost its value (especially for those who have been for example in the hotels of France), still this term well describes the category of hotels with high quality standards. And these 10 hotels are the perfect proof of that!
1. D Resort Göcek Special Category
Göcek is a luxurious place where there are no big and noisy all-inclusive hotels, but crystal clear turquoise sea, green mountains, pine forest, white sand, yacht marinas and amazing restaurants. And of course the hotel D-Resort Göcek, about which it is necessary to tell when writing such an article. Since in Göcek it is impossible to build high-rise buildings, the resort is a few two-storey buildings and a very beautiful well-groomed area with swimming pools and canals, in the Mediterranean style. The words that best describe the hotel are airy and snow-white. The hotel has several of its own establishments and if you want to, you can not leave the hotel at all. Q Lounge – Japanese cuisine, with hints of local and Peruvian food. There's also D'Breeze with tasting menus including Aegean recipes and appetizers cooked in a wood-fired oven. Olives Buffet with breakfast, lunch and dinner specials. DD Scoop Cafe with ice cream and coffee. And Pool Bar with refreshing drinks and Turkish cuisine at the poolside of D-Resort Göcek. The perfect place, for a perfect vacation.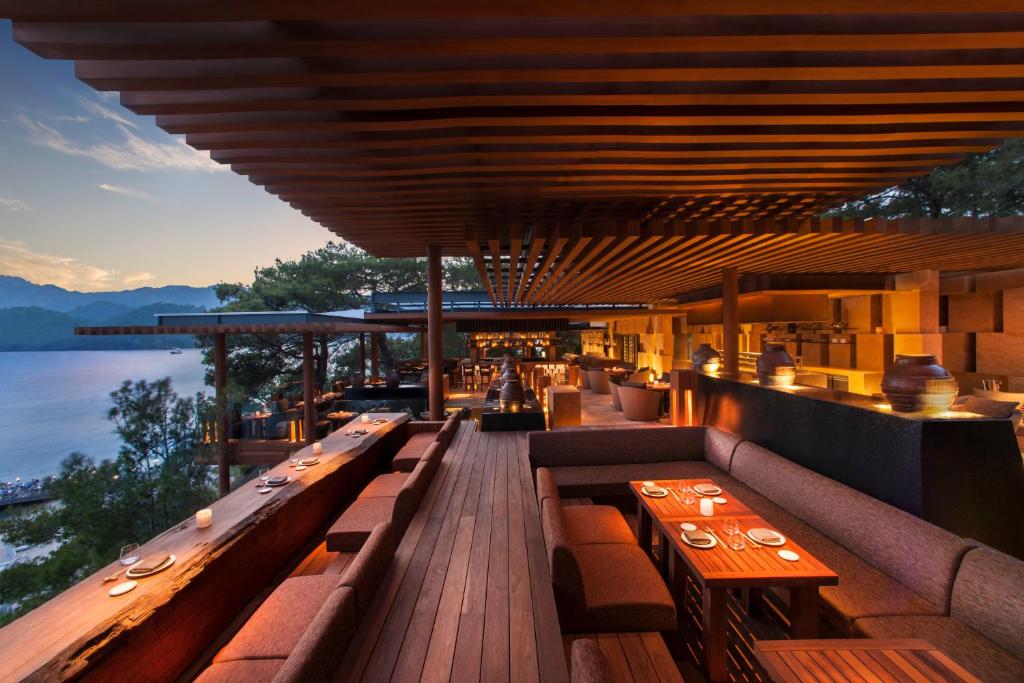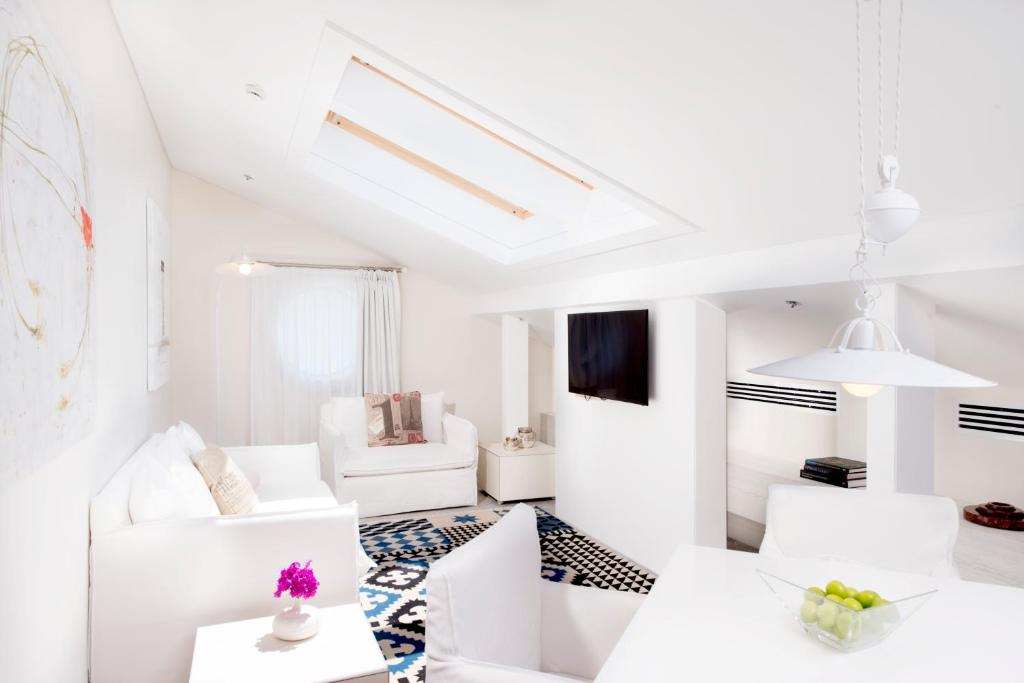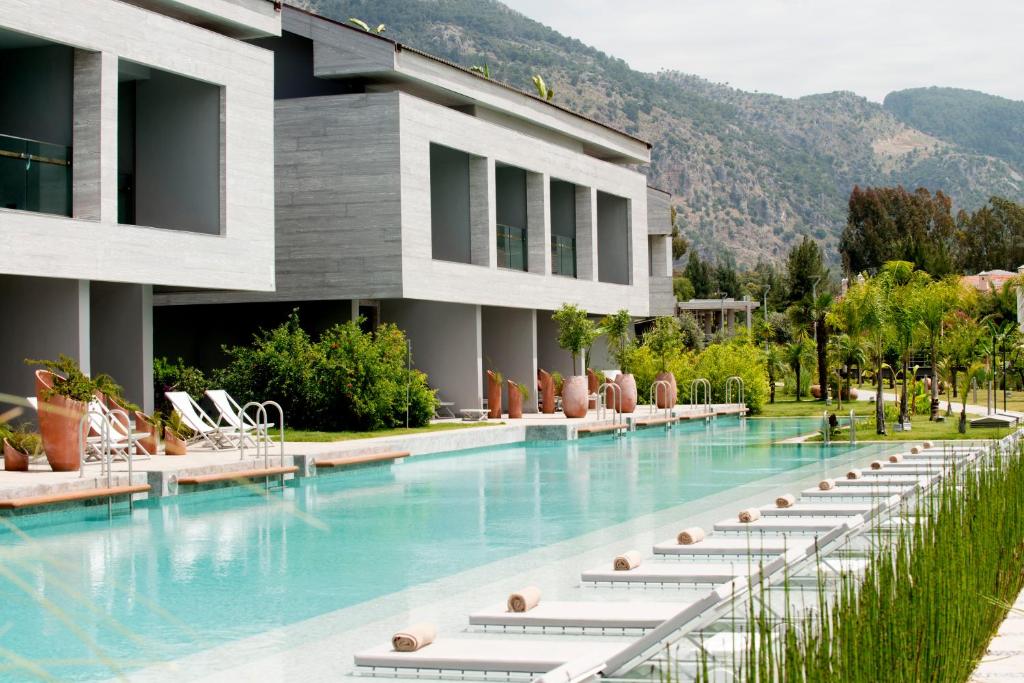 ---
2. Mandarin Oriental, Bodrum
Mandarin Oriental – located in Sennet Bay, the most charming bay on the Bodrum Peninsula. A luxury 5 star hotel with 2 private beaches, a water sports center and 11 restaurants, lounges and bars. Mandarin Oriental Bodrum has been awarded 5 stars by Forbes Travel Guide as well. The hotel also has a world-famous spa center on two floors. And how many activities are there: skydiving, kitesurfing, sailing in Dalyan and Kaunos, romantic dinners under the stars, cooking classes and much more. Bodrum is the perfect place to escape from the hustle and bustle of the metropolis
---
3. D Maris Bay
The bay in which D Maris Bay is located is one of the most beautiful in Turkey. Due to the fact that the hotel stands on a hill, most rooms offer stunning views of the bay, mountains, islets breaking the turquoise sea surface and the hotel's white sandy beaches. The hotel is located away from cities and towns, so it is particularly peaceful. This is an amazingly beautiful place, filled with surprises and mysteries. Here you can watch sea turtles while snorkeling in the crystal clear waters, or go on a motor yacht trip and discover Mediterranean monk seals basking in the sun. This hotel is worth going to at least for the nature. The 80 km long peninsula of Datca is full of undulating hills, dense pine forests, olive groves, secluded and secret coves.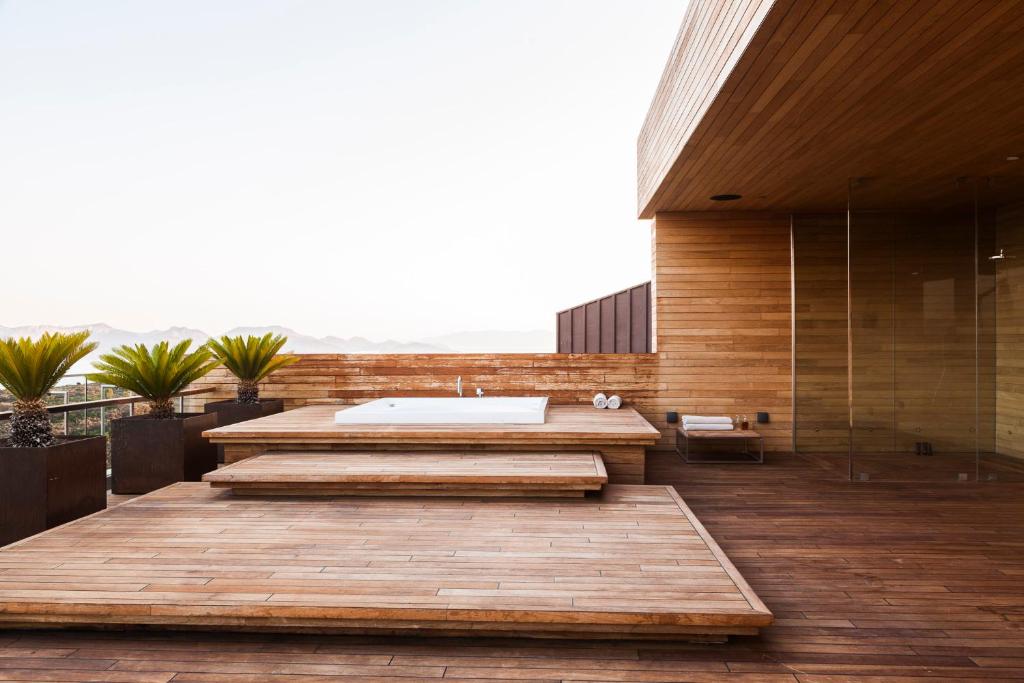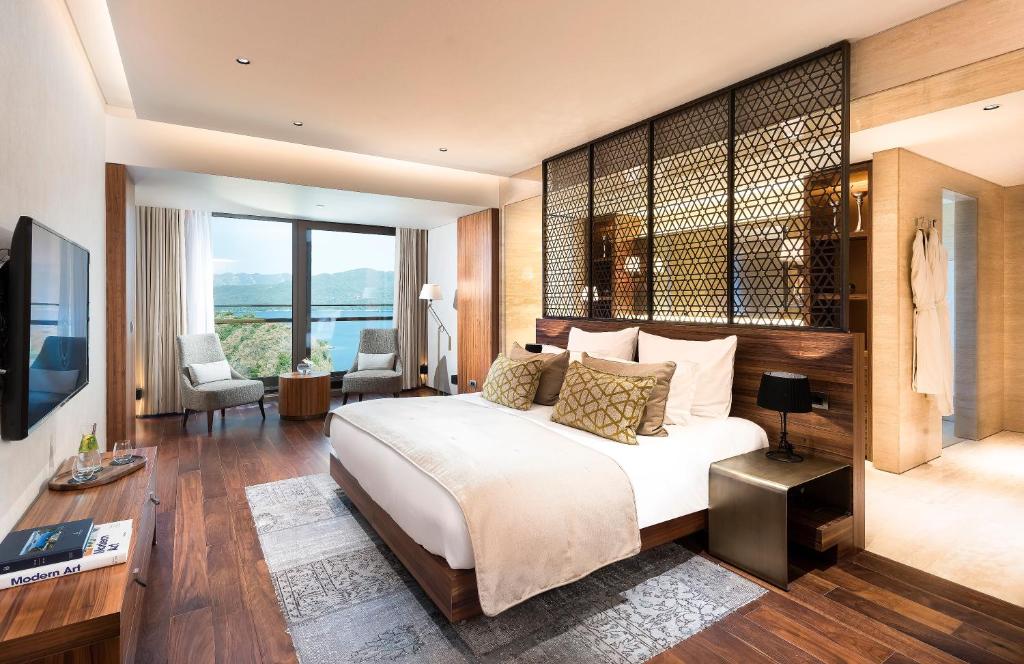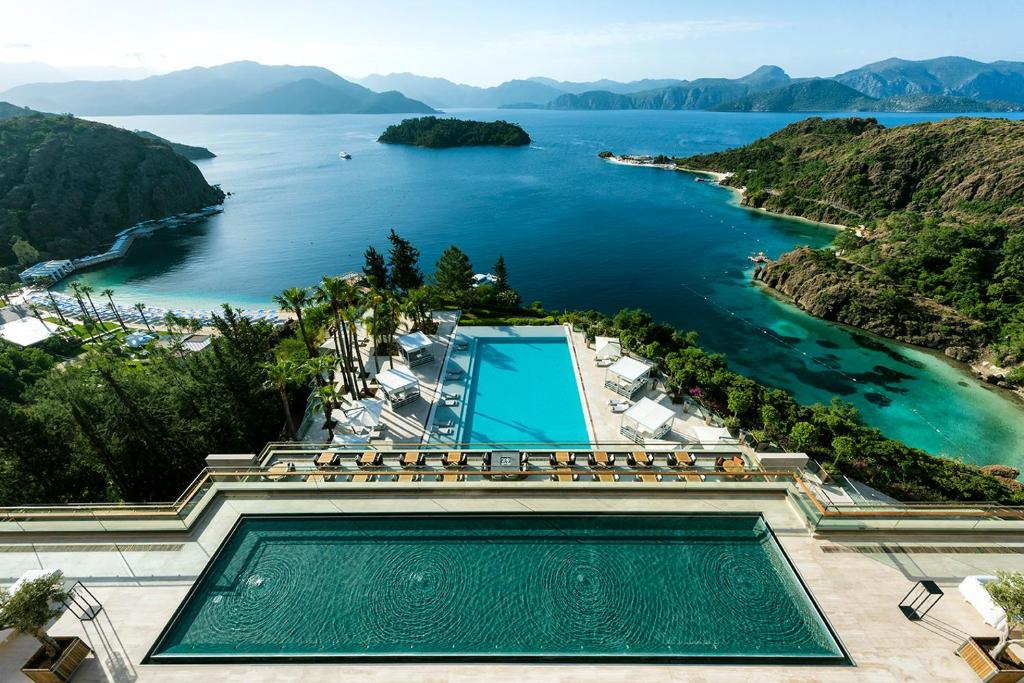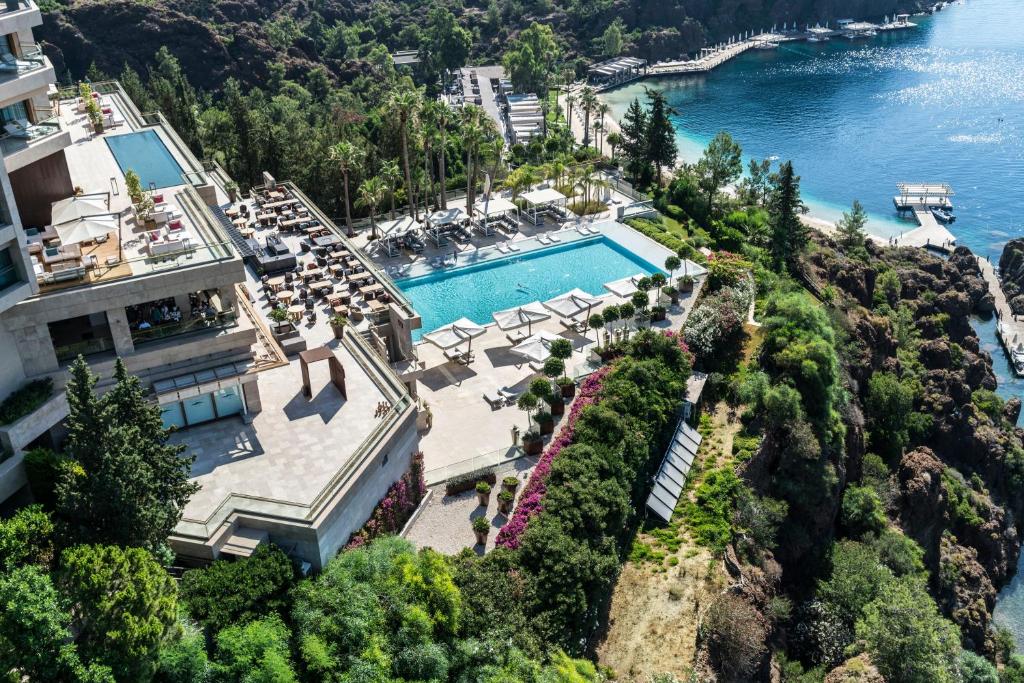 ---
4. Macakizi Hotel
The hotel, and the place where Maçakizi is located, are legendary. Maçakizi, translated from Turkish, is the "Queen of Spades". The hotel was founded in the late 70's by Ayla Emiroglu as a small hotel with a beach. Even then, the chic but not pompous hotel became a meeting place for Turkish bohemians. And 40 years later – a favorite place for millionaires, top models and connoisseurs of boutique hotels. You can start your day with a yoga class by the crystal clear waters of the Aegean Sea, then head to the gym for a personalized workout or relax your soul with luxurious body treatments at the spa. And you can end the day at the sumptuous restaurant. "The silvery leaves of century-old olive trees rustle in the cool night air. A glass of invigorating wine pairs perfectly with the delightful and unique flavors emerging from the open kitchen. Each dish is a work of art, lovingly created by the ingenious hands of Arete Sahakian." By the way, the hotel restaurant is considered one of the three best in Turkey (so says the authoritative Turkish newspaper Hürriyet). And the restaurant is so good that during the season it receives a thousand people a day!
---
5. Amanruya
The turquoise waters of the Aegean Sea lap Amanruya's private pebble beach and the air is filled with ancient pine forests. Set amongst olive groves and cypress trees on the serene north coast of the Bodrum Peninsula. It is a stunning hotel in the Aman chain of luxury hotels. The hotel room is a blend of Mediterranean and Turkish architectural details, Amanruya's stone cottages overlook picturesque gardens with private pools and serene terraces. Dining at Amanruya is a special kind of indulgence. Thanks to Turkey's wide variety of microclimates, there is an abundance of fresh, seasonal produce available all year round. And Amanruya's many restaurants take advantage of this abundance, using ingredients sourced from local farmers and fishermen in and around Bodrum. The homemade Mediterranean menu includes homemade Amanruya bread, informal meze dishes ideal for in-room dining or picnics. And the Anatolian Dining Pavilion, perched high on the hillside, offers breathtaking views of the grove. Chef Cihan Beyit creates a daily chef's menu of tantalizing Ottoman, Mediterranean or Aegean dishes. This hotel will leave no one indifferent.
---
6. Maxx Royal Kemer Resort
Architecture in keeping with the nature of Kemer, unrivaled Maxx Inclusive concept and impeccable service. Mesmerized by the magnificent nature Maxx Royal Kemer Resort will turn even sophisticated travelers' idea of luxury upside down. Villas with a private pool on the beach mesmerize with home-like comfort and coziness, fantastic luxury, as well as a magnificent view of the Mediterranean Sea. As well as exquisitely decorated suites from 100m². The hotel has 3 exclusive restaurants (Bronze Steak House, Azure Japon restaurant), a patisserie, Chocolatier, a beach restaurant, a children's restaurant, a bar of original Mövenpick ice cream and homemade ice cream, 11 bars, and a street of restaurants with Turkish, Italian and fish restaurants. In 2023, the hotel was honored with an award – Traveler Review Award. Maxx Royal Resorts was also the first hotel brand to receive the Global Sustainable Tourism Council-GSTC (Global Sustainable Tourism Council-GSTC Industry Criteria Certificate).
---
7. Susona Bodrum, LXR Hotels & Resorts
Susona Bodrum, LXR is a luxury resort hotel located next to the sea in Bodrum. Taking its name from a mermaid from Turkish mythology, Susona combines the magic of the sea, the pure texture of nature and the peace of the Aegean Sea. Susona Bodrum offers modern and sophisticated sea view rooms, spacious suites and villas with private pools and gardens for a unique vacation experience. Spa Soul – a world-class award-winning spa center with an authentic hammam, sauna, 24-hour gym and panoramic pool. Food & Beverage is the hotel's Malva Restaurant with a menu of fresh and seasonal produce from local Aegean producers, world-class cocktails accompanied by a DJ at Frankie Beach Club and a traditional Turkish Ezi breakfast.
---
8. Six Senses Kaplankaya
The Six Senses resort in Bodrum is a secluded retreat offering a combination of privacy and communion in the lap of nature. It is a 10,000 square meter spa with innovative wellness programs; a heated indoor pool, hydrothermal zones, hammam, state-of-the-art fitness equipment and classes including spinning, yoga and Pilates. And when you add to that several organic dining options, spacious outdoor areas, private beaches, and plenty of children's activities and entertainment, you definitely won't want to say no to a vacation here. Local farmers supply the resort with a number of organic products, which the hotel certifies, thereby increasing the market value for producers and artisans, as well as providing plenty of choice for vacationers. Six Senses Residences is a synergy of spacious rooms with uncompromising quality and service. A true cozy and beautiful home away from home.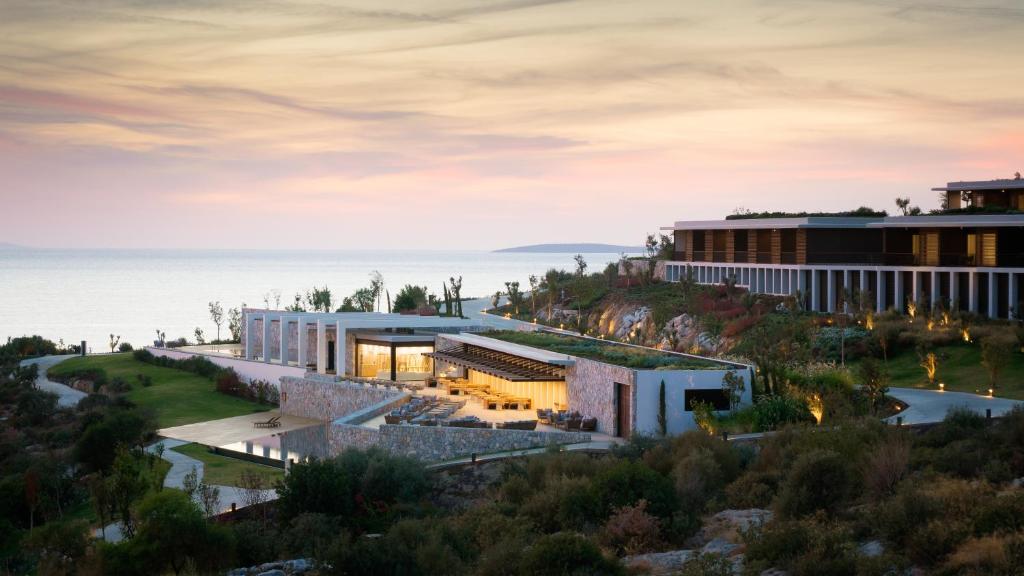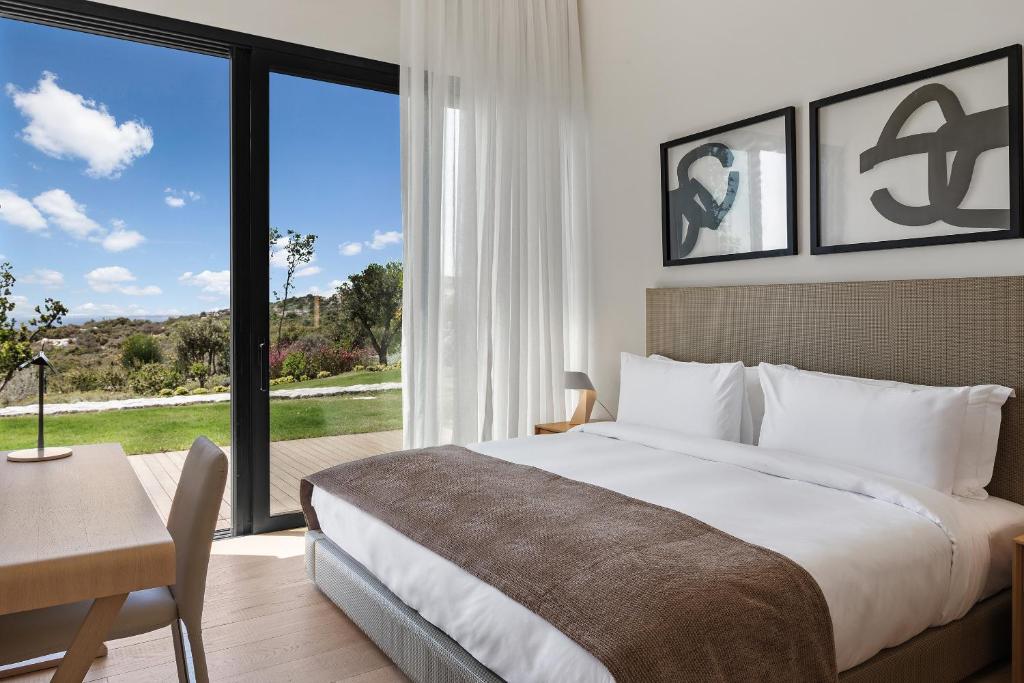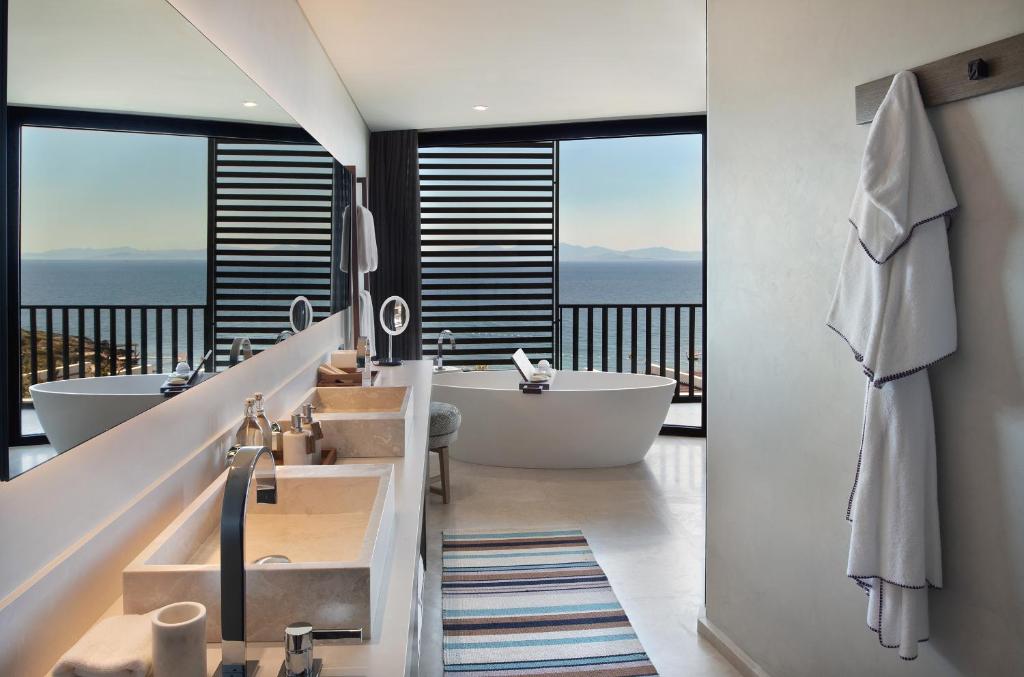 ---
9. Rixos Premium Belek – The Land of Legends Access
Rixos hotel chain is a dynamically developing hotel brand, which today is in demand in many countries of the world! There are 10 hotels of this chain in Turkey. But Rixos Premium Belek deserves special attention. The hotel is located among pine forests on the Mediterranean coast. The endless sandy beaches and magnificent landscape of Belek make the hotel an ideal place for those who love beautiful views and appreciate ecotourism. Taurus Mountains, national parks and archaeological sites. Rixos Premium Belek is not only a luxury vacation, but also a completely unique vacation culture and a special approach to entertainment. Wonderful blue sea, amazing nature, wonderful beaches, experienced chefs, exquisite dishes, unusual leisure activities, exciting games that will give you many discoveries and sports activities that inspire a healthy lifestyle.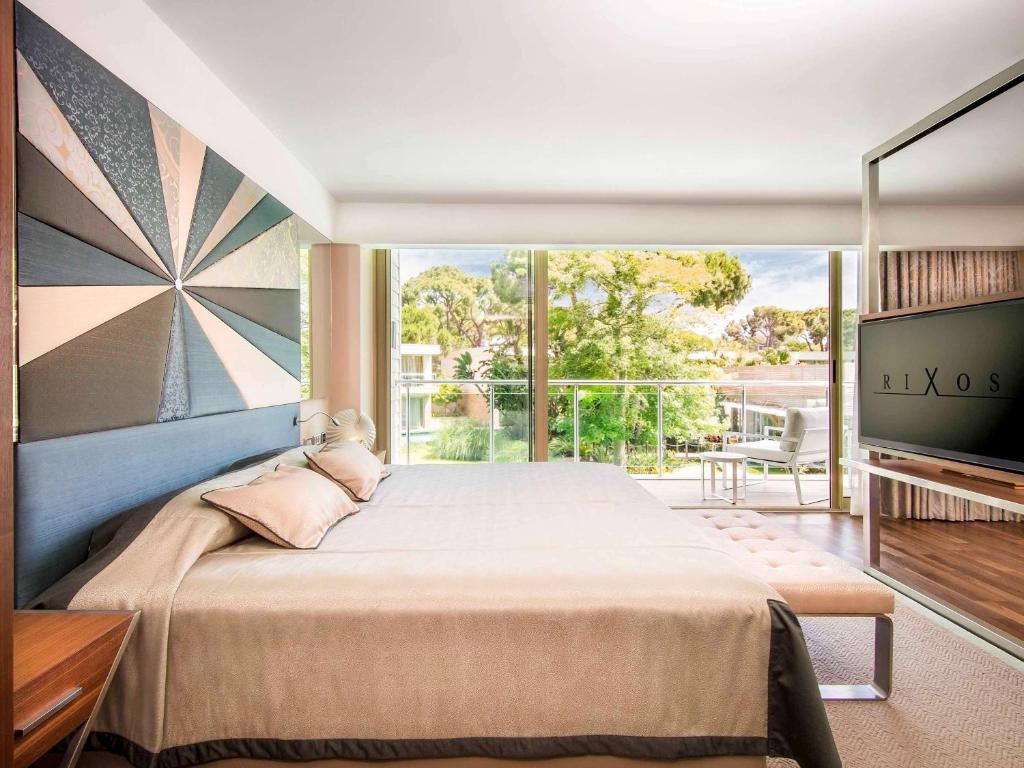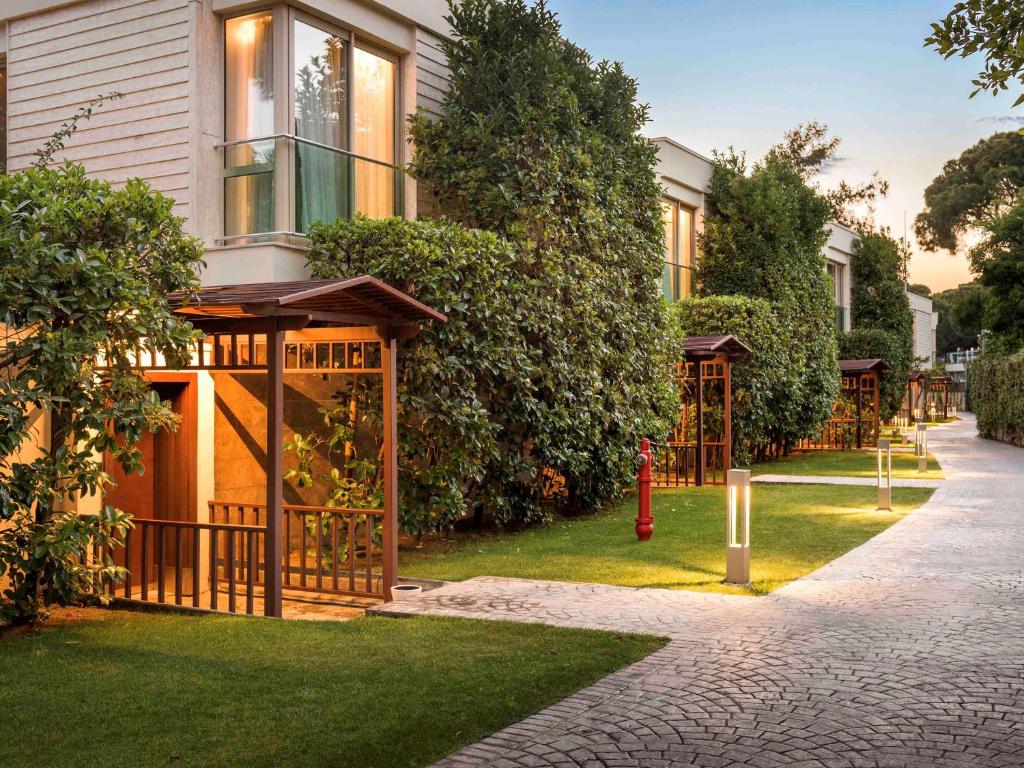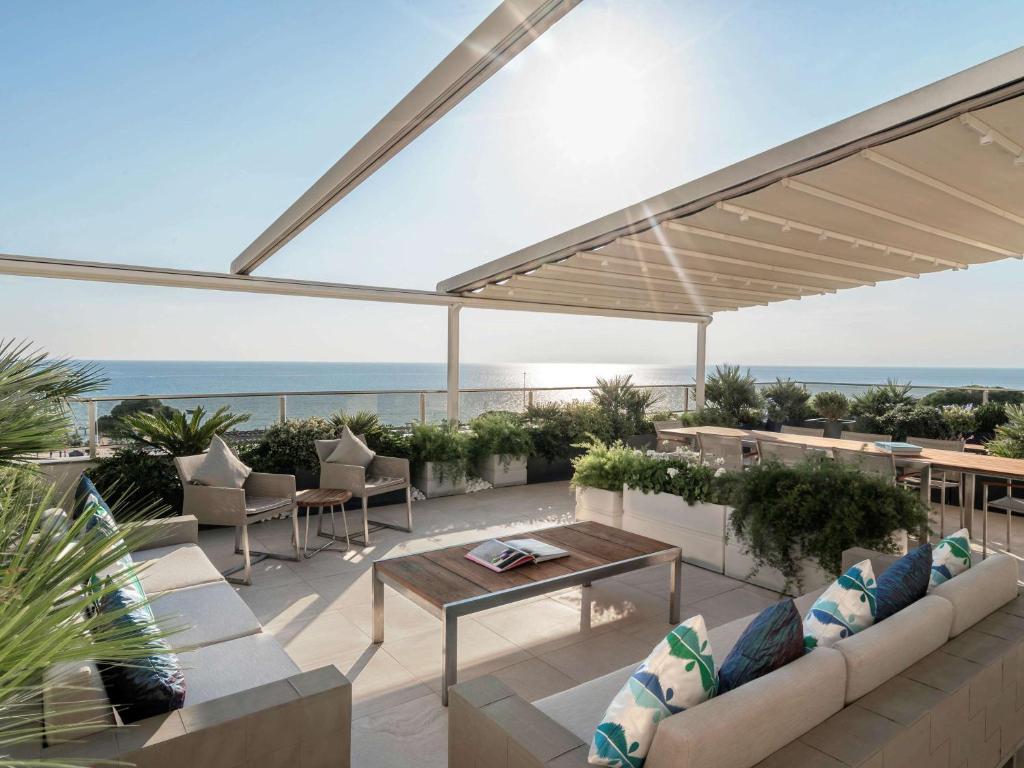 ---
10. Bodrum Loft
Bodrum Loft, located on the shores of the vast azure Aegean Sea, is just one step away from the lush nature and crystal clear sea. The unique architecture of the hotel is inspired by the landscape and bears the imprints of Tabanlıoğlu Architects and Akfen Holding, in perfect harmony with the natural flora, with olive, sandalwood, laurel, mastic, cranberry and citrus trees, as well as evergreen shrubs. Enjoying the varied flavors of local and international cuisine is a daily activity here. Under the silvery olive trees by the endless sea, there are three restaurants, two bars, and the exceptional patisserie Loft by Vakko L'Atelier, which will satisfy the most discerning gourmets. An oasis of spacious villas, Bodrum Loft comprises 36 fully furnished and luxuriously serviced apartments overlooking the surrounding natural beauty of the peninsula.
---
11. Lujo Hotel Bodrum
Get ready for a journey into a world of luxury, full of art and joy! With its minimalist architectural style, natural colors and spectacular views of the Aegean Sea, Hotel Lujo Bodrum combines comfort and luxury with the kind of delicate balance and artistic rigor that delivers more pleasure than a masterpiece can offer. A meal during which you lively plan your day, savor treats while enjoying the view, or gaze into each other's eyes after a romantic day on the beach. Our diverse restaurants aim to cater to your every need. Simply choose the one you would like to have breakfast, lunch or dinner at.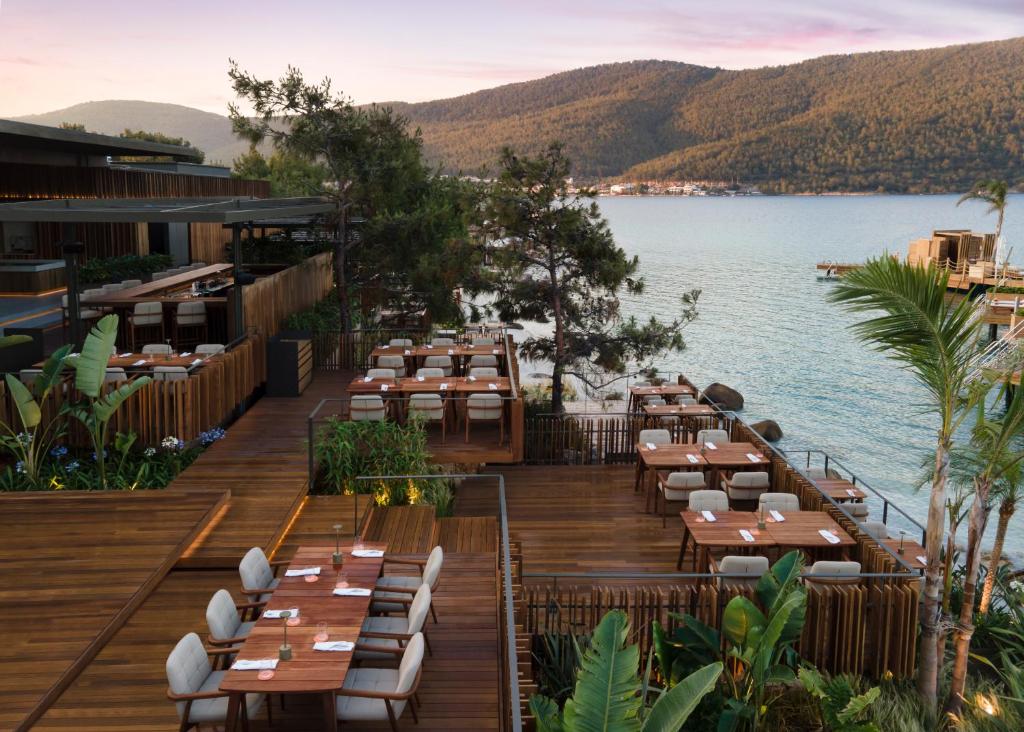 ---
And to make sure you don't lose the post, save it to Pinterest!
What would I choose? It's very difficult. So many amazing hotels. But probably Amanruya. It is an incredibly luxurious chain of Aman hotels, in my opinion one of the best in the world!