I honestly didn't think I could fall in love with any country more than Italy. Hah, I haven't yet. But the south of France fascinated me, with its incredibly beautiful old towns, lavender fields, olive groves and castles. And perhaps the coast of France – the Cote d'Azur and Provence, managed to fall in love with me irrevocably. And what could be better than to live amongst all this splendor, in the most beautiful hotels in France!
In this article I will share with you the hotels from "My Top". There are both castle hotels and more modern estates, one of which, for example, is where the most influential stars stay during the Cannes Film Festival! And if you think it's impossible to get in, it's not, it's real! These hotels deserve your attention!
For convenience – hotels are divided into 2 categories. Provence and Cote d'Azur. Enjoy watching).
PROVANCE
In the heart of Vaucluse is a magnificent 5-star hotel, designed for those who want to disconnect from the madness of the city and reconnect with nature. At first sight: hypnotic beauty of scenery and an architectural ensemble built entirely in light stone, at the very top of the village, radiating an atmosphere full of charm and elegance. Crillon le Brave is a tranquil haven overlooking the Ventoux mountains, surrounded by vineyards and olive groves typical of Provence. Surrounded by churches, mazes of 17th- and 18th-century buildings twined with vines lead to a secret passage and panoramic terrace overlooking the breathtaking Mont Ventoux Mountain. The hotel consists of a dozen old houses, giving it a special, secluded and exclusive charm. In the 16 rooms and 18 suites of the Crillon le Brave, vintage red tiles, typical of Provence, contrast with the warm refined decor on the floor. Natural linen, natural pastels, cosy plaids, soft fabrics… The tranquil atmosphere invites you to relax and unwind in the luxury of this 5-star hotel in Mont Ventoux.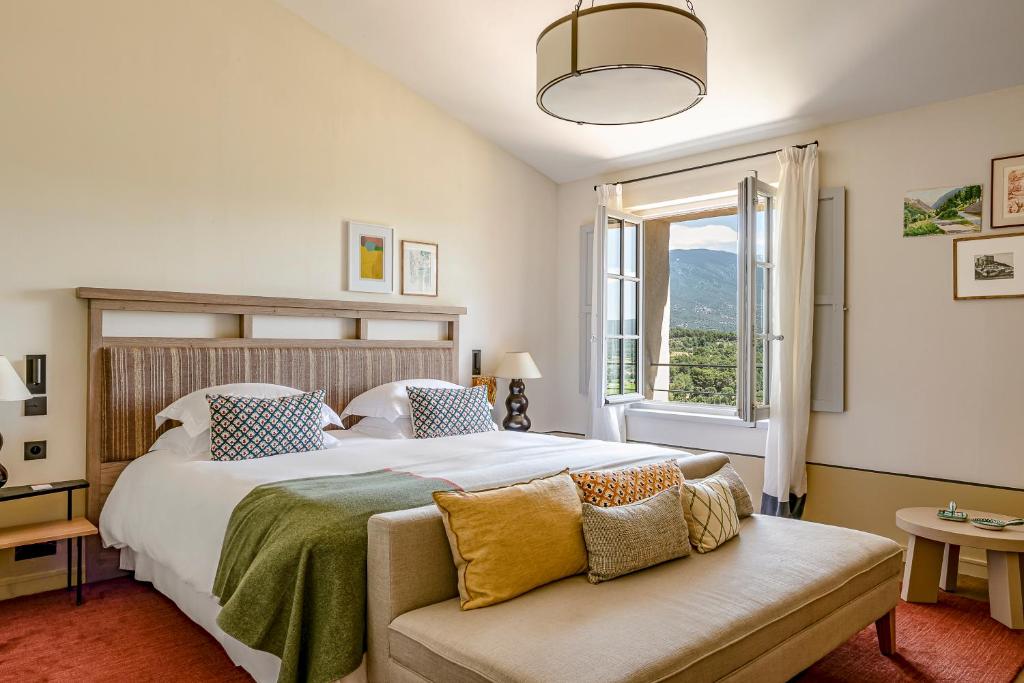 ---
Like many of the best hotels in Aix-en-Provence, Villa Saint-Ange is modest in size, but that is perhaps its only modesty. This 18th-century villa is a magnificent example of architecture, and although it is surrounded by townhouses, the grounds themselves are quite spacious. The interior style is consistent with the era in which the villa was built, with elements of Far Eastern and modern decor. Even the most modest classic room is a luxurious place with parquet floors, elegant silks and robes with monograms. And in a Prestige or Junior Suite, you enter a truly luxurious place. The common areas include an impressive outdoor pool, spa and several rooms. One for relaxation and another for private dinners and events. There is also a terrace and a large garden. And inside the conservatory is the Mediterranean restaurant.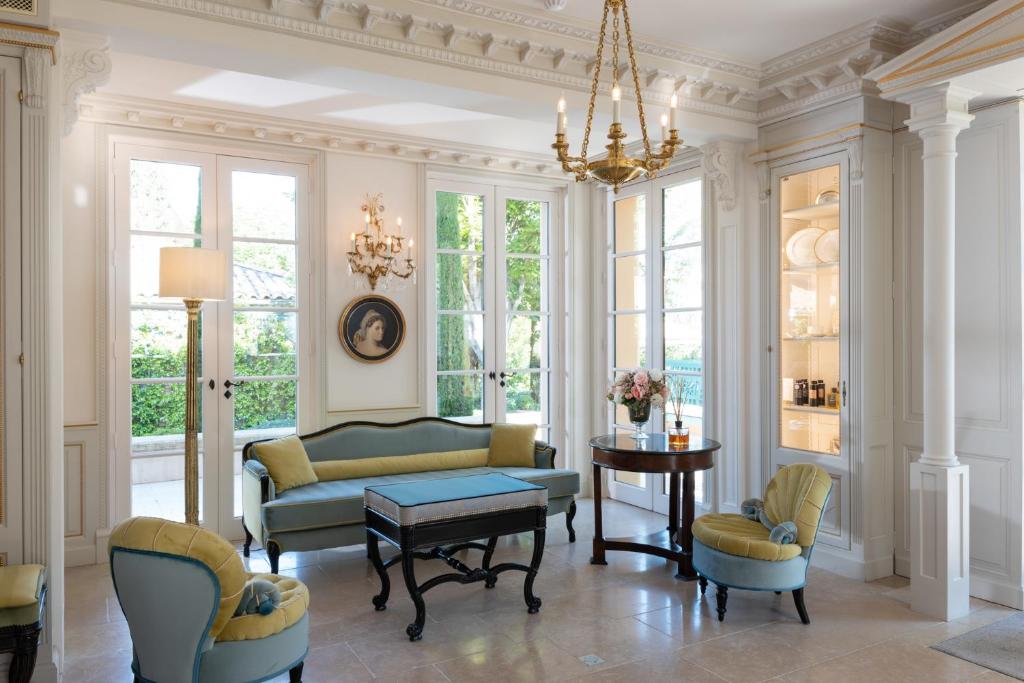 ---
In the heart of Provence, not far from Saint-Paul-de-Vence, the pearl of the French Riviera, is the Domaine du Mas de Pierre Resort & Spa, a 5-star Relais & Châteaux hotel offering luxurious comfort in a relaxed atmosphere and a feeling of "home". Fifteen years after opening, the hotel has reinvented itself with a new identity. After a year and a half of extensive renovation work, the new tranquil and friendly luxury resort has reopened and welcomes guests into the heart of its magnificent 8-hectare garden. 76 rooms and suites, have also been completely renovated in 2021.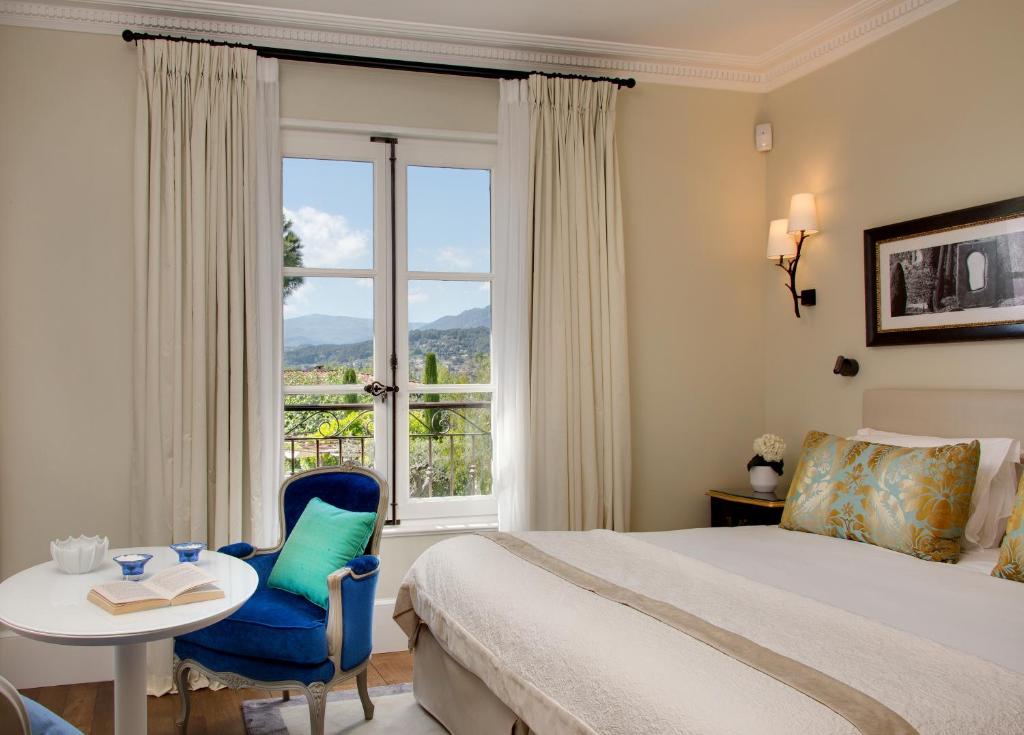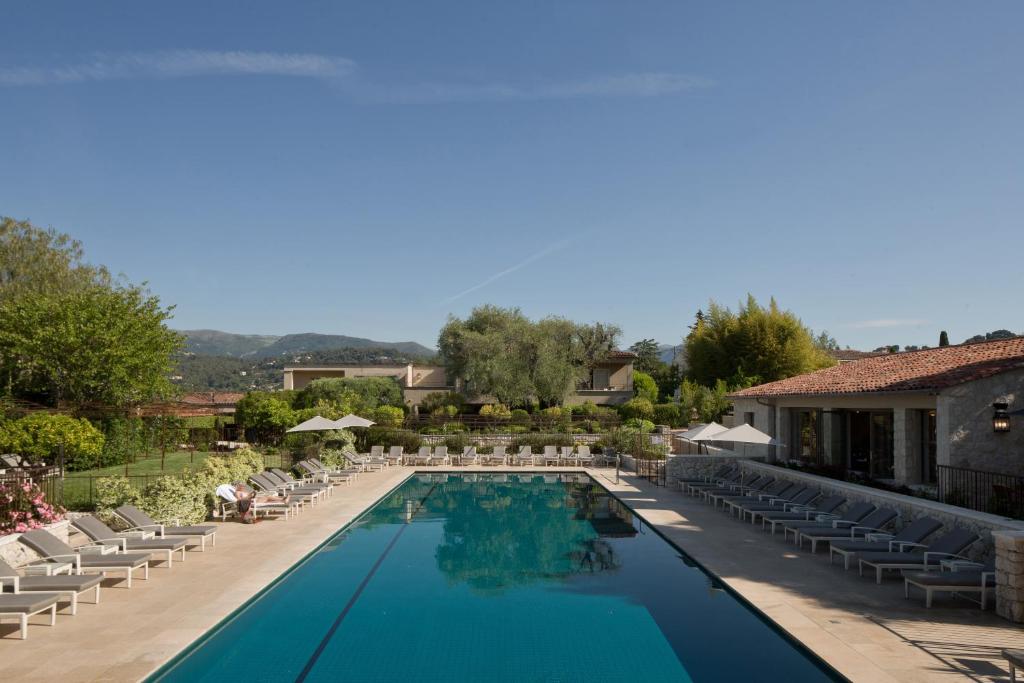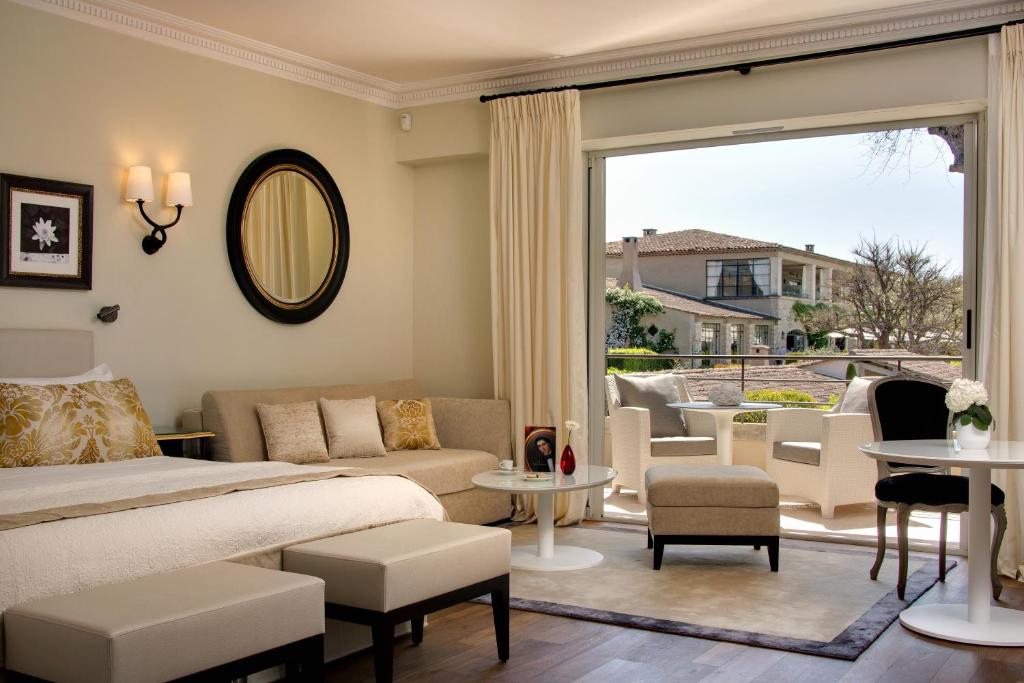 ---
4. Baumanière – Les Baux de Provence
Le Baux-de-Provence is one of the most beautiful villages in France with a very rich architectural and historical heritage. And the Hotel Baumanière Les Baux-de-Provence is located right at the foot of Le Baux-de-Provence. Amidst wild yet peaceful nature, surrounded by 20 hectares of vineyards, shrubs and olive trees. All Domaine rooms are filled with charm, authenticity and modernity, yet each one is individual, each piece of decor, vintage or handmade. At Baumanière, time seems to stop and every moment becomes precious. There are two restaurants, the Oustau de Baumanière, which has three Michelin stars. Of course there is also a stunning spa, with a hammam, a sensory pool and treatments… Everything has been done to ensure that every guest can relax and unwind in the heart of the Val d'Enfer in Provence.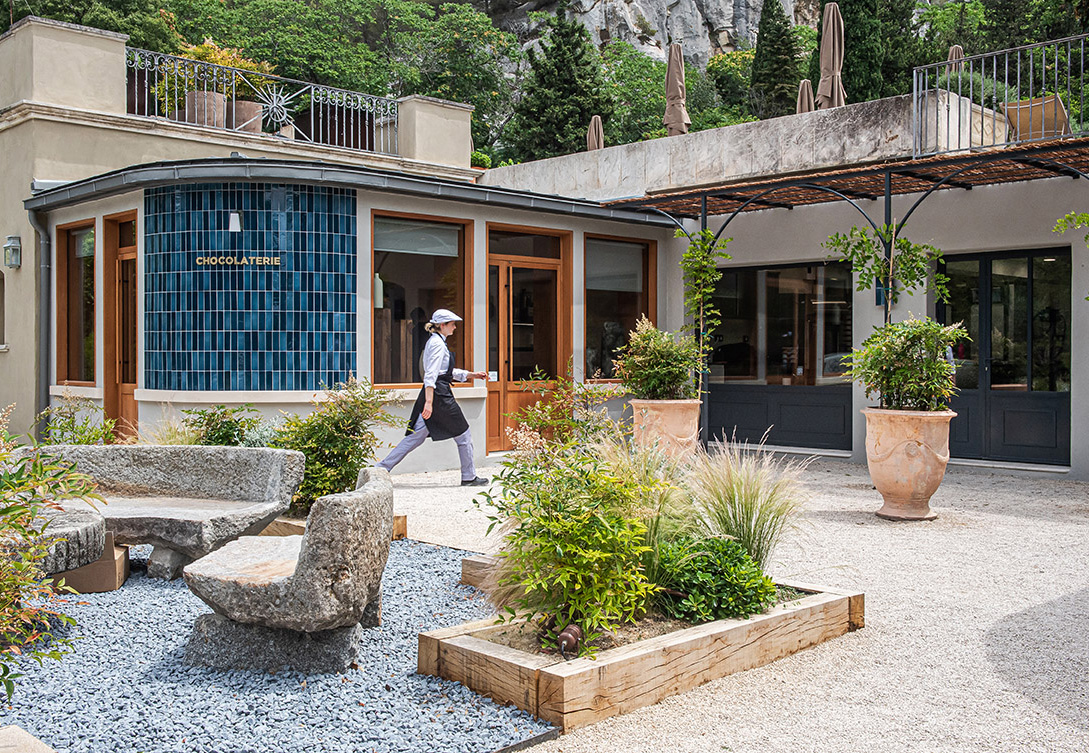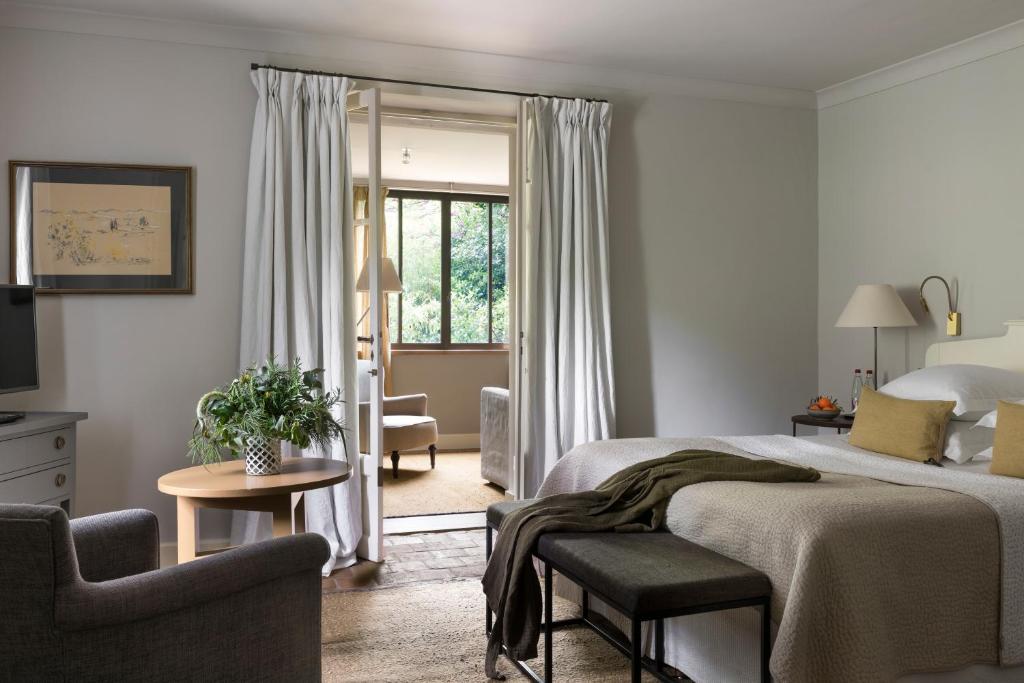 ---
Château de Berne is a five-star hotel tucked away deep in Provence, in 500 hectares of wilderness, accessed by a small road through forests and olive groves. The story of Château should begin by mentioning the organic wines of Château, grown in the nearby 150 hectares of vineyards. This place is a true wild, natural paradise, where the iconic winery, Château de Bern, is located. The Château de Berne itself, belongs to the Relais & Châteaux hotel chain, and is a private château with villas, a Michelin restaurant with organic cuisine, and numerous recreational activities, including a spa and cooking classes. The hotel consists of 34 rooms and Villas Villa Fito and Villa Jasso with breathtaking views of the vineyards, combining luxury, peace and tranquility in an elaborate Provencal setting. Château de Berne will appeal to gourmets, wine and sports enthusiasts, adventurers and dreamers.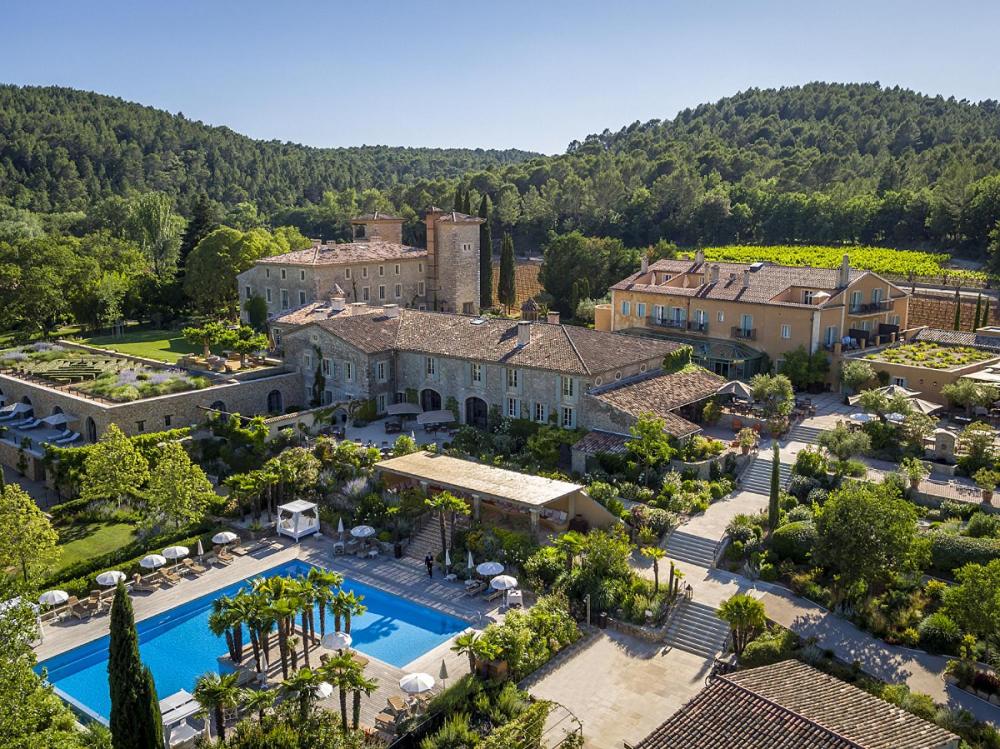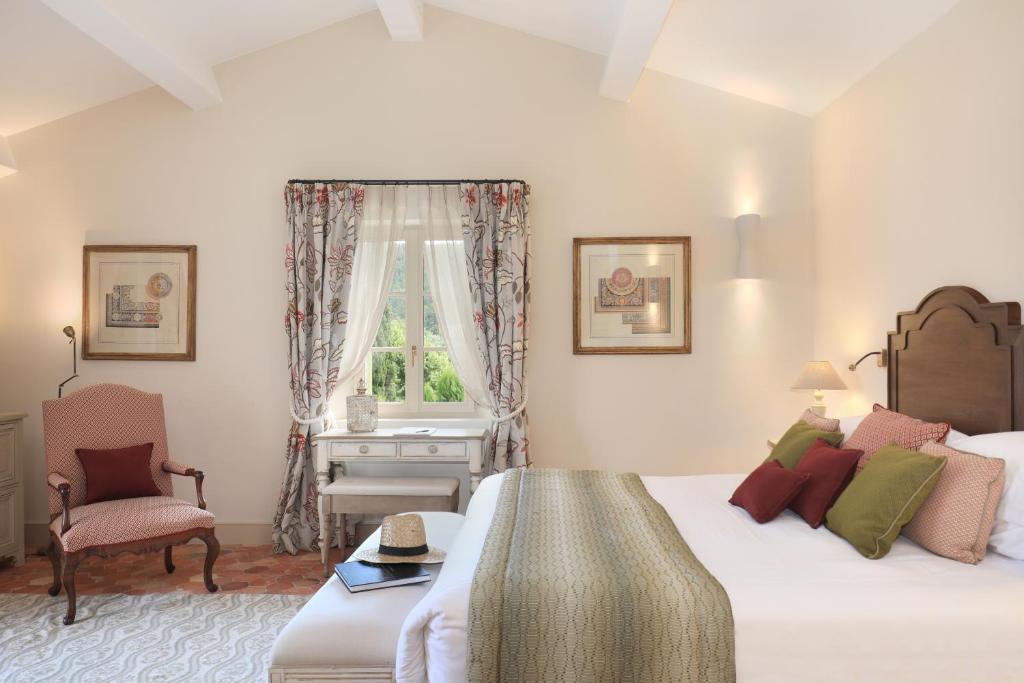 ---
Coquillade Provence is the best resort hotel in France in 2022. Picture this. A mysterious village, deep in the Provençal hills of the Luberon Park, hidden behind the surrounding vineyards and olive trees, with the heady scent of lavender and pine, to the serenade of eternal cicadas… A real dream! The Coquillade Provence Resort & Spa is a real five-star gem hidden among the many treasures of Provence. 63 rooms and suites designed with signature attention to detail. Chic fabrics and premium materials, and attention to detail are all designed to lull guests into the enchanting atmosphere of the fairytale world of Provence. The hotel also has a luxurious World Luxury Spa, 2 bars and 3 restaurants. Cipressa Sicilian, Les Vignes et son Jardin with products from their own kitchen garden and Avelan with traditional French cuisine. Blue skies overhead and a moonlight serenade of cicadas. How beautiful!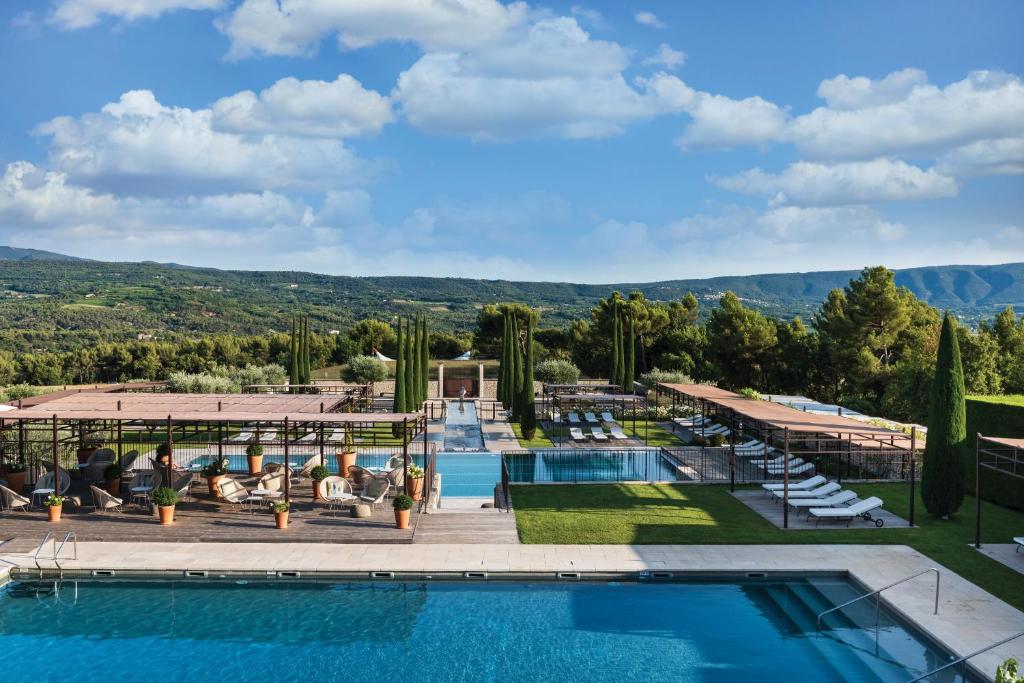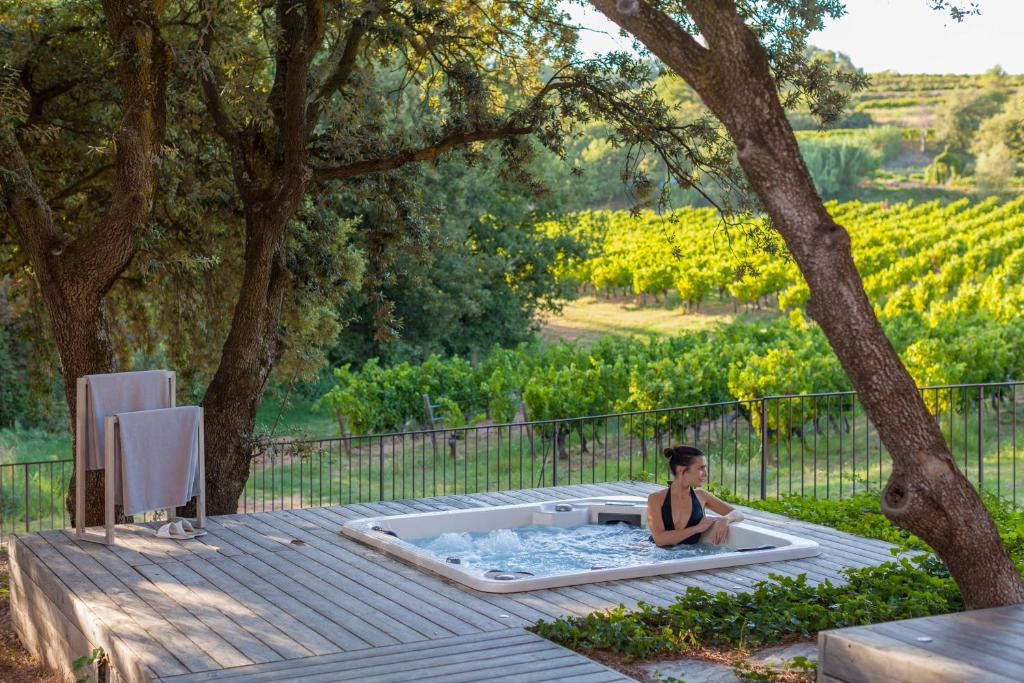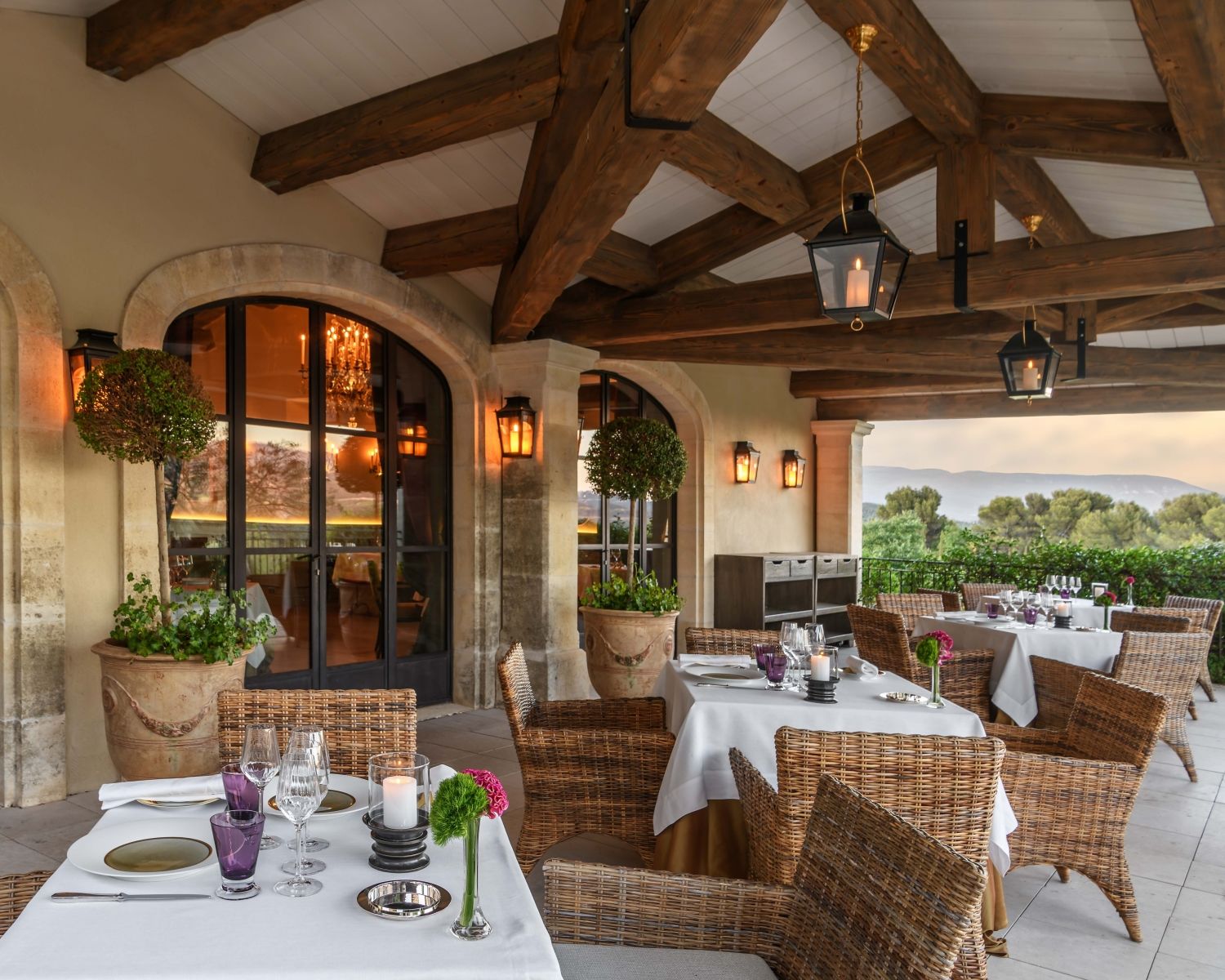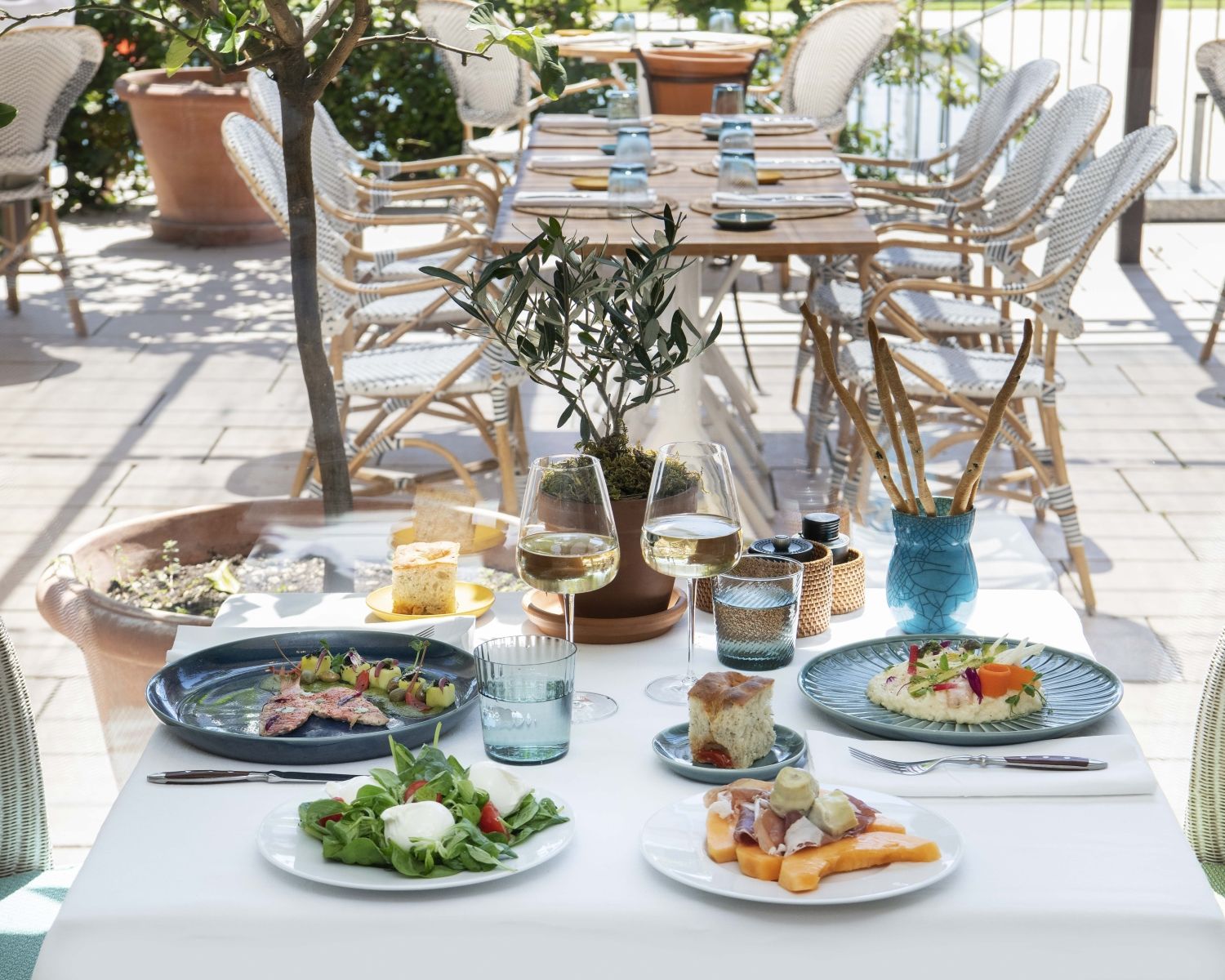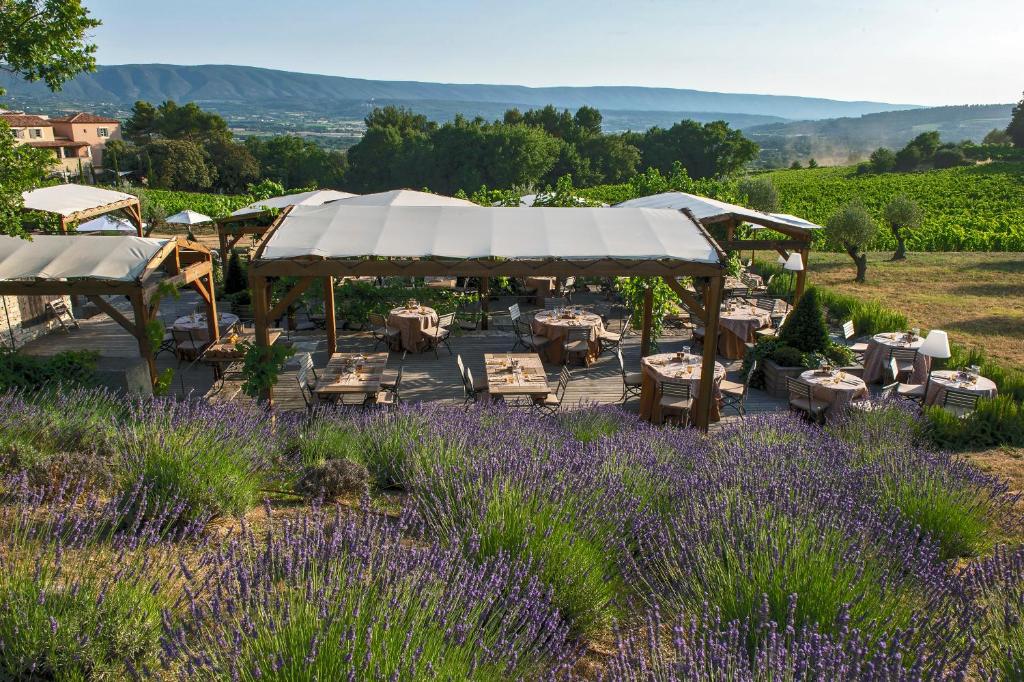 ---
The Domaine de Fontenille is a luxury hotel designed as a family home. All 19 rooms and suites of the hotel are unique and bright. Some rooms are a reflection of classicism with a touch of the warm rays of the south, and some are modern and austere. Artwork, private terraces, views of majestic park cedars and Luberon hills… Each of the 21 rooms and suites of the Domaine has its own personality. It is truly a unique place dedicated to awakening the senses in the gastronomic restaurant Le Champ des Lunes, awarded 1 Michelin star, and in the gourmet bistro La Cuisine d'Amélie. The hotel also has a wellness center with Susanne Kaufmann treatments.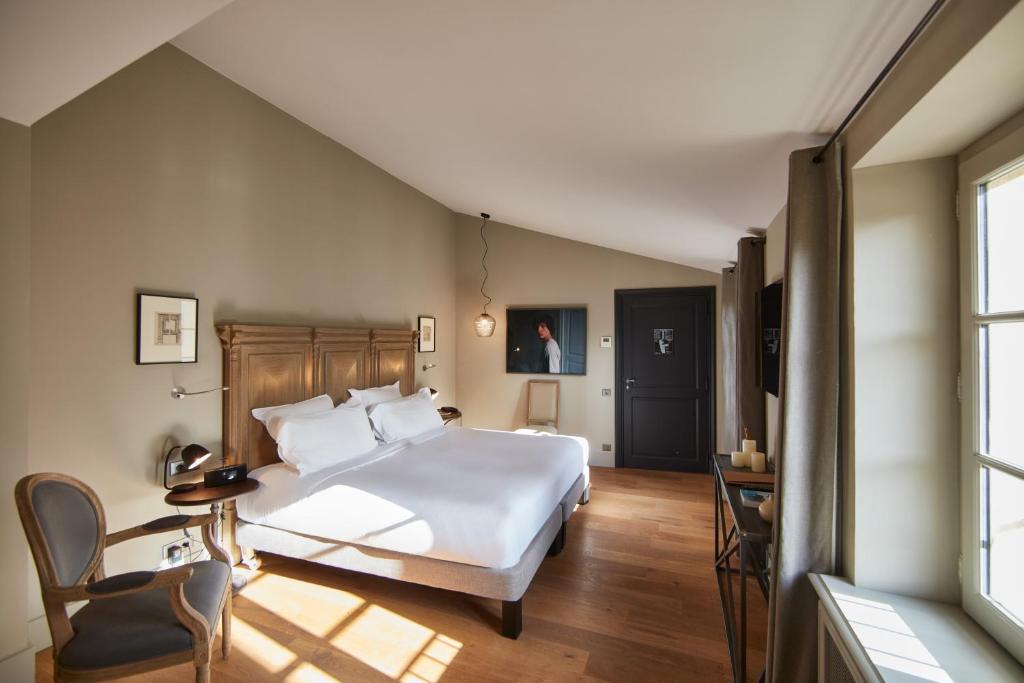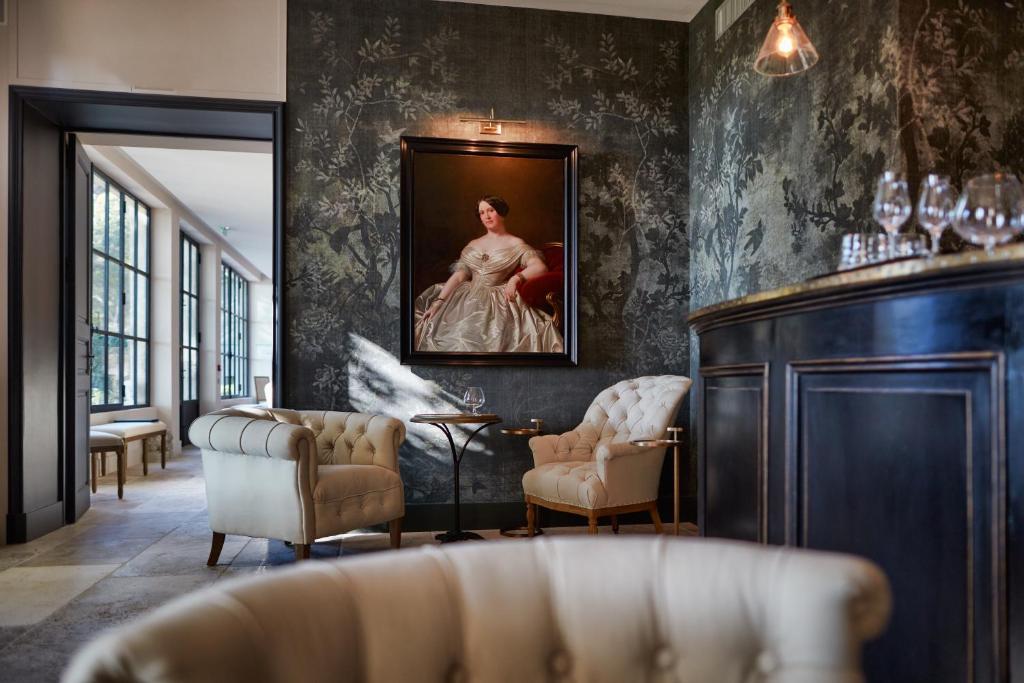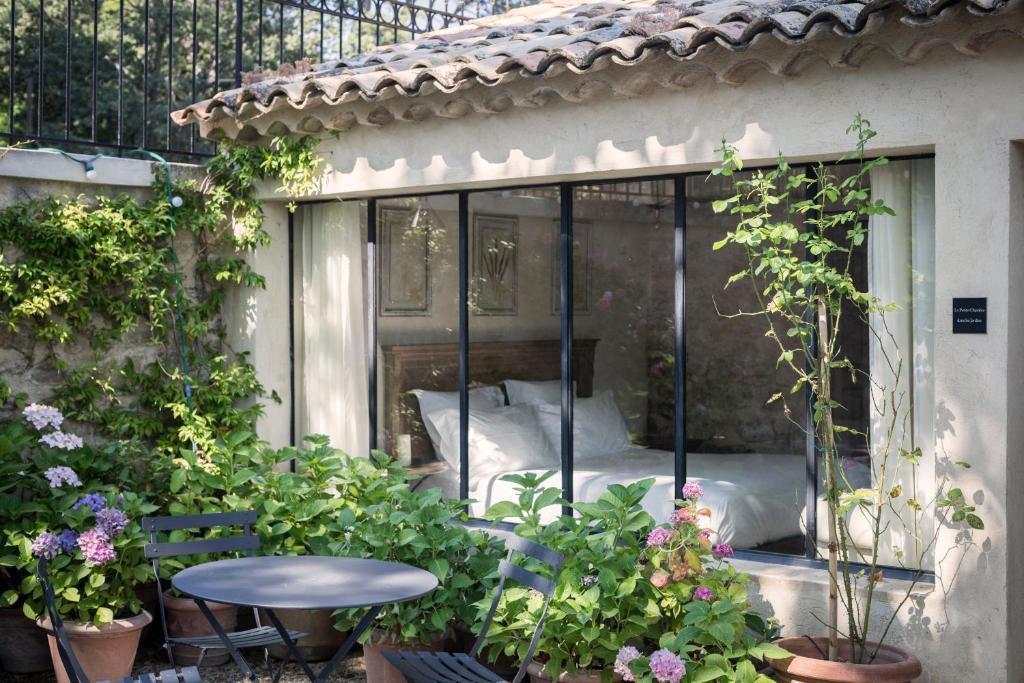 ---
The Hôtel du Castellet, on the edge of a pine forest overlooking the Mediterranean Sea, is one of the most charming hotels in the region. Rooms in shades of peach and lavender, sun-drenched terraces – what could be cozier? And then there's the pool, the golf course and the Spa du Castellet, which adds a touch of serenity to the surroundings. In 2022, the spa won the World Luxury Spa Awards, in the category "Best Luxury Advanced Treatment". And starting in 2023, Le San Felice Hotel's restaurant has a new chef, and a new menu! An exceptional gastronomic paradise in a modern setting. A beautiful modern hotel!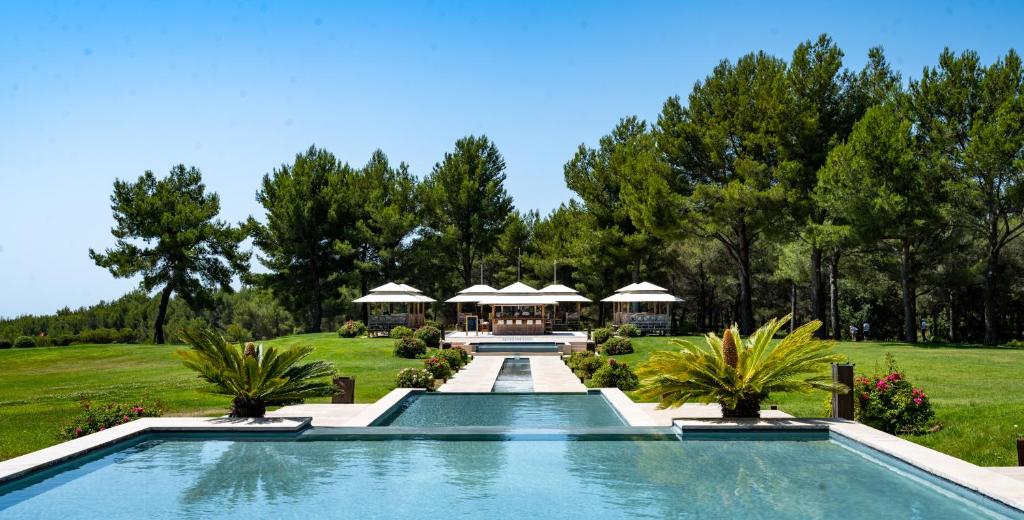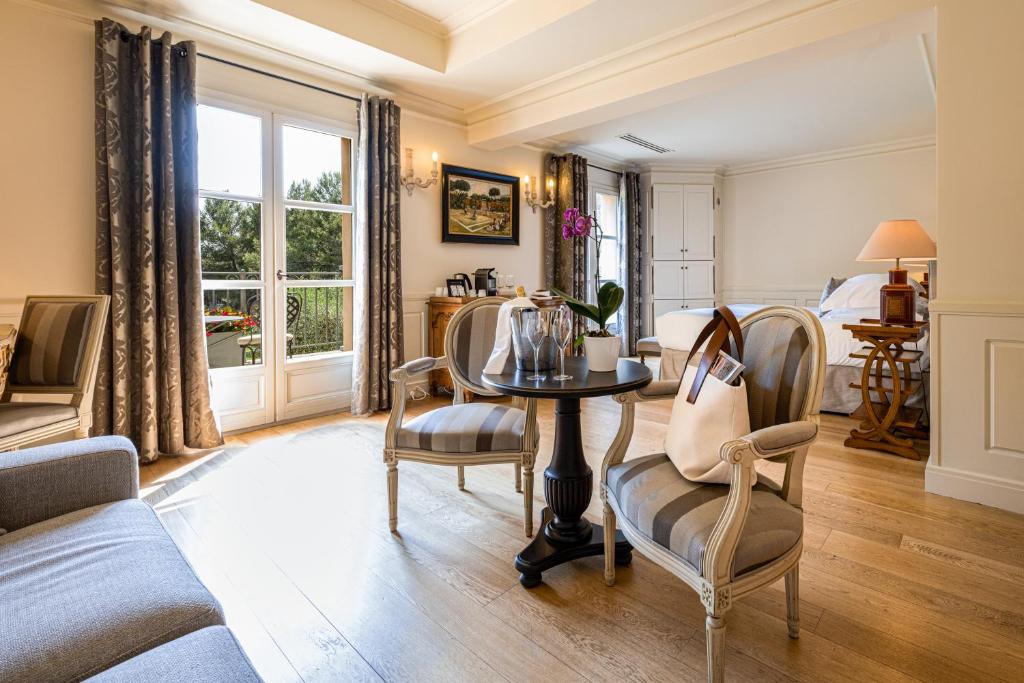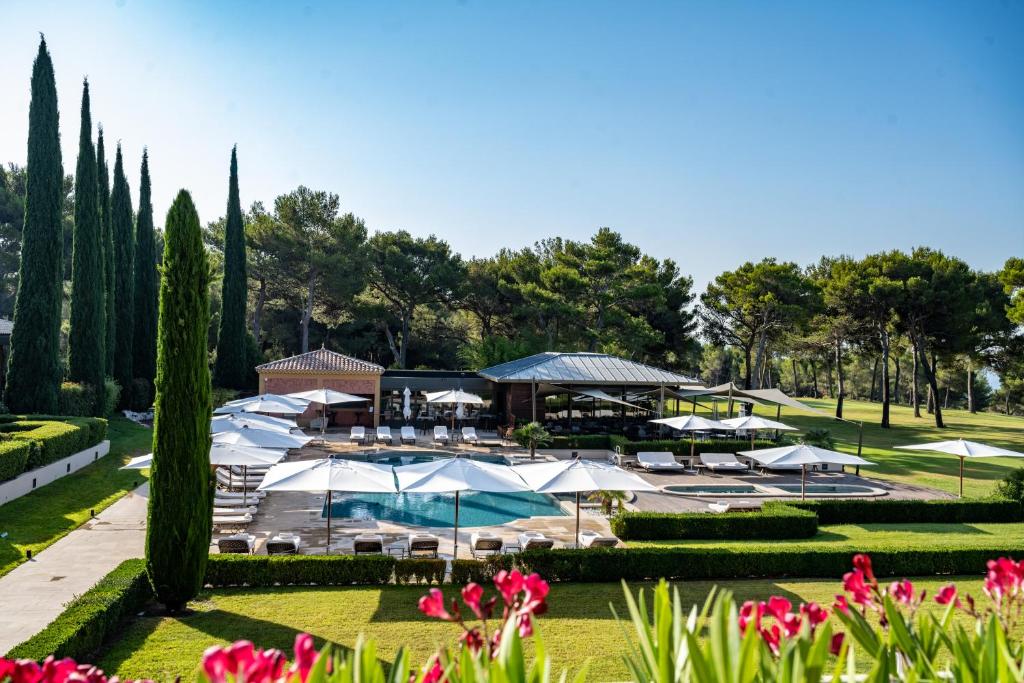 ---
9. Le Couvent des Minimes Hôtel & Spa L'OCCITANE
The Couvent des Minimes Hotel & L'Occitane Spa will partially open its doors on June 23, 2023 and will present all its beauty this fall. The transformed and renovated Le Couvent des Minimes Hôtel & Spa L'Occitane reflects new ideals: simplicity, elegance, harmony, relaxation and refined pleasures. This is what you need in an establishment that specializes in the true art of hospitality. Yet the soul of the old monastery has been carefully preserved. An incredibly aesthetic hotel, very different from 90% of hotels in France!
---
10. Mas des Herbes Blanches Hôtel & Spa – Relais & Châteaux
This Provencal farmhouse with breathtaking views of the Luberon Valley is the perfect place to relax. Mas des Herbes Blanches is set around a magnificent pool surrounded by cypresses, olive trees, Mediterranean pines and palm trees. And the terraces offer stunning views of the charming Vaucluse valley, with windmills and stone huts. This is a beautiful part of France that has seduced and inspired many great artists, including Marc Chagall, Serge Polakoff and Victor Vasarely. Le Mas des Herbes Blanches has 48 luxurious rooms and suites, whose terraces also offer magnificent views.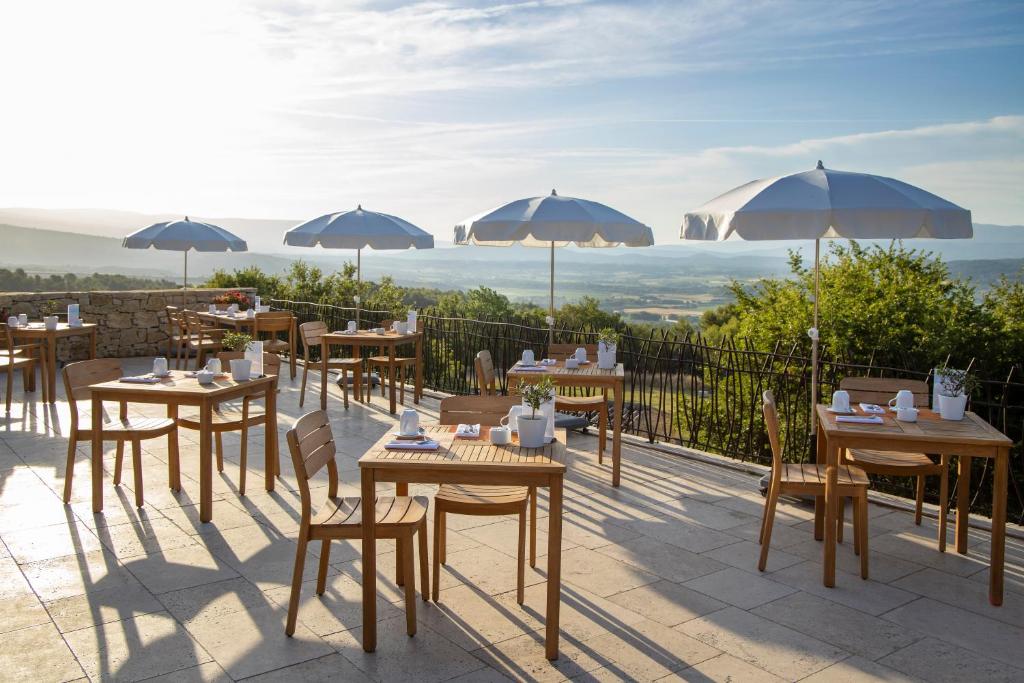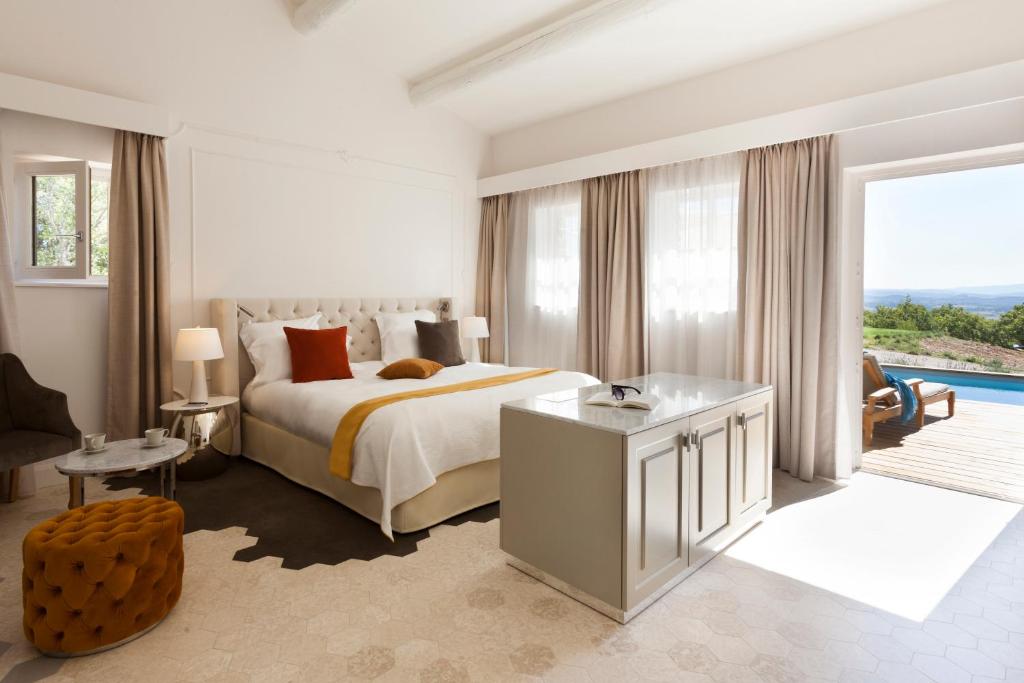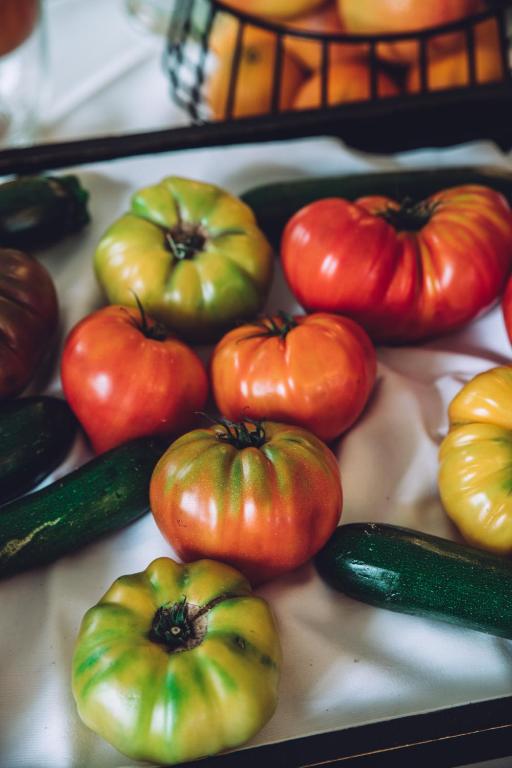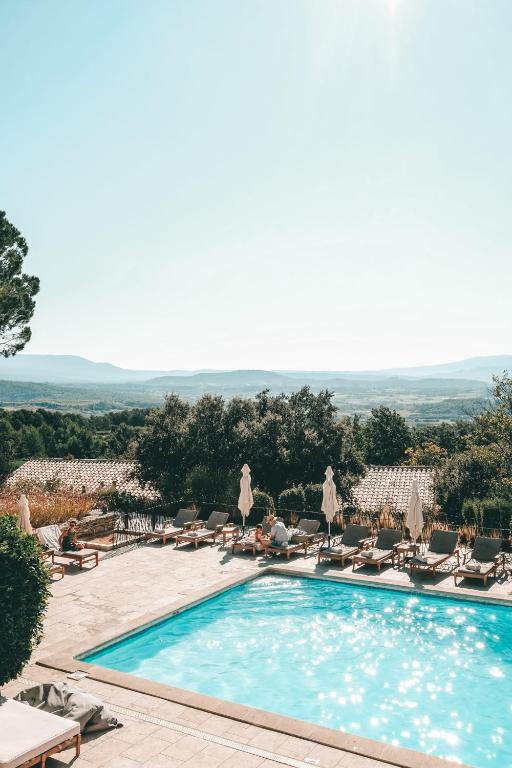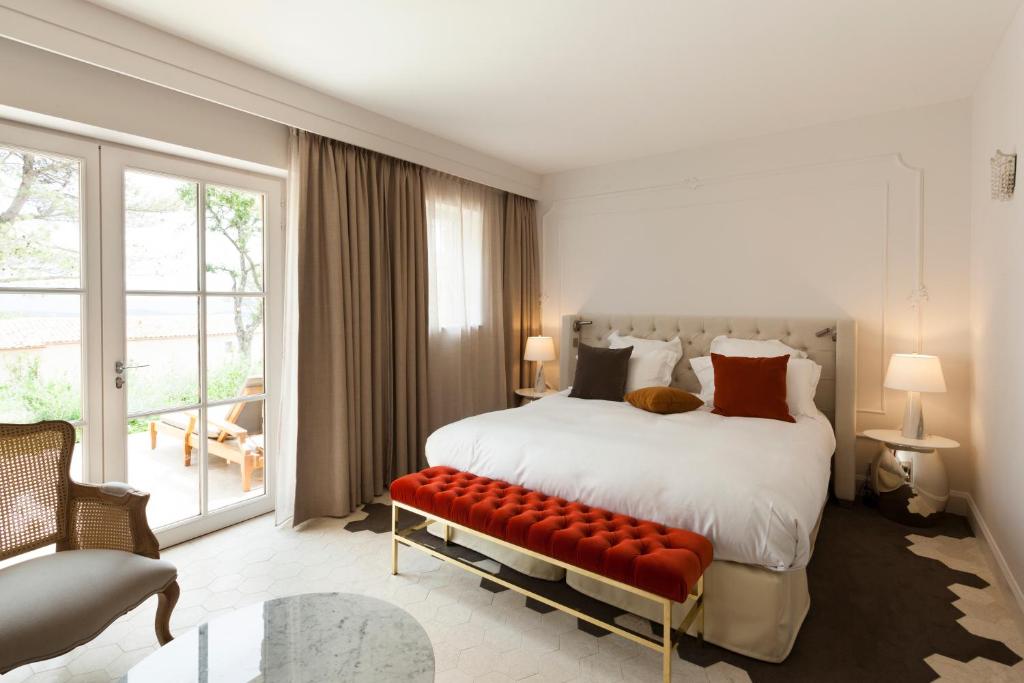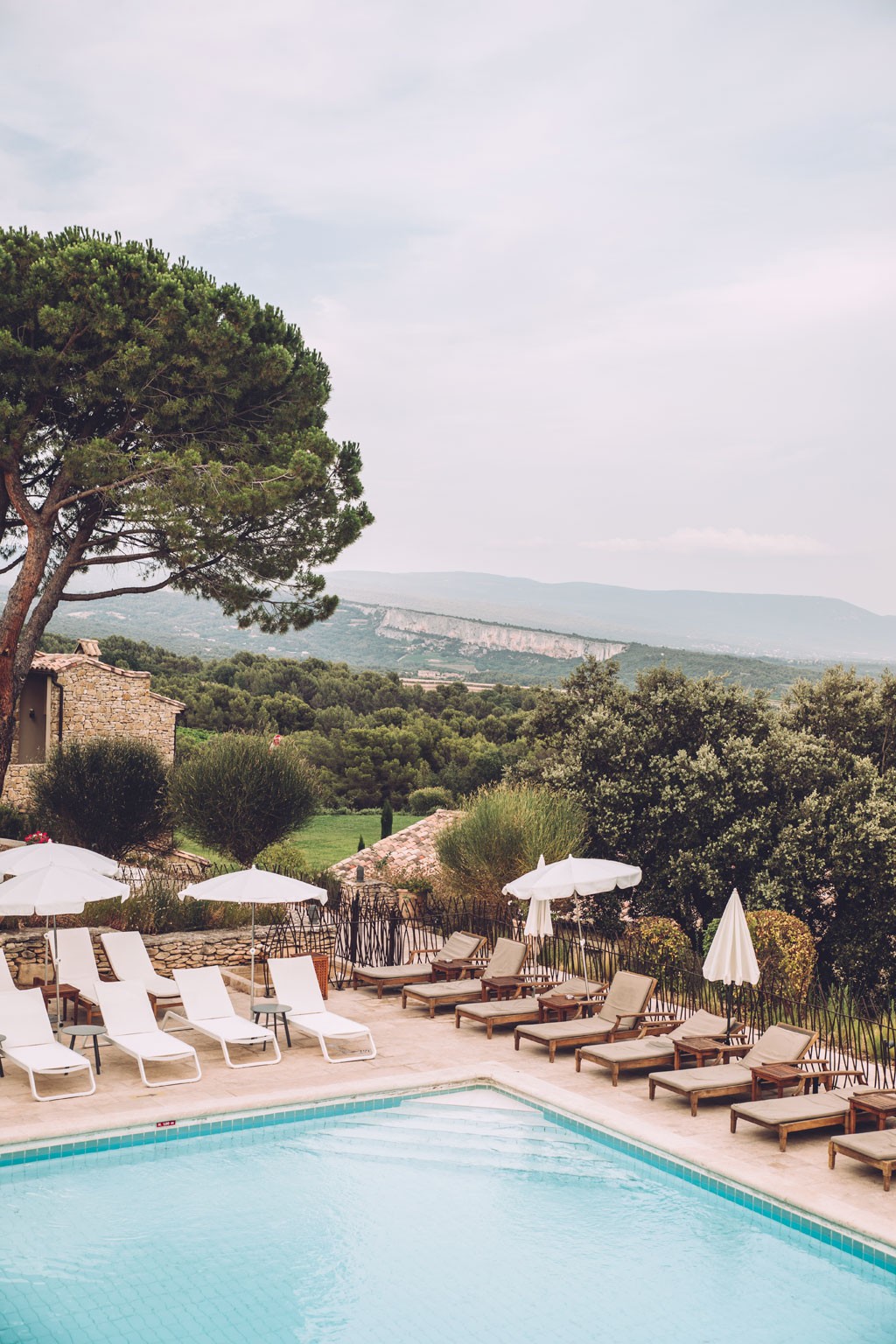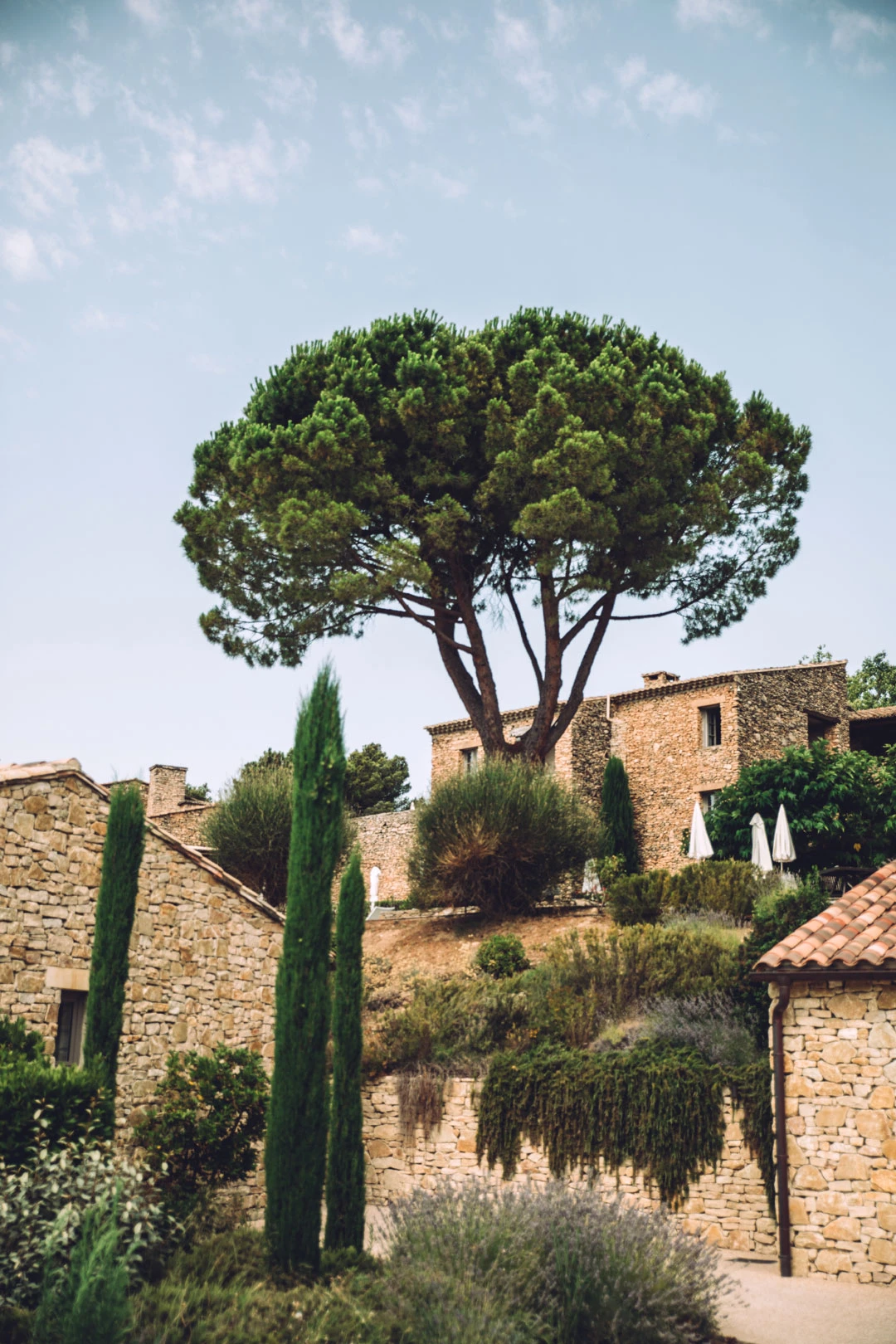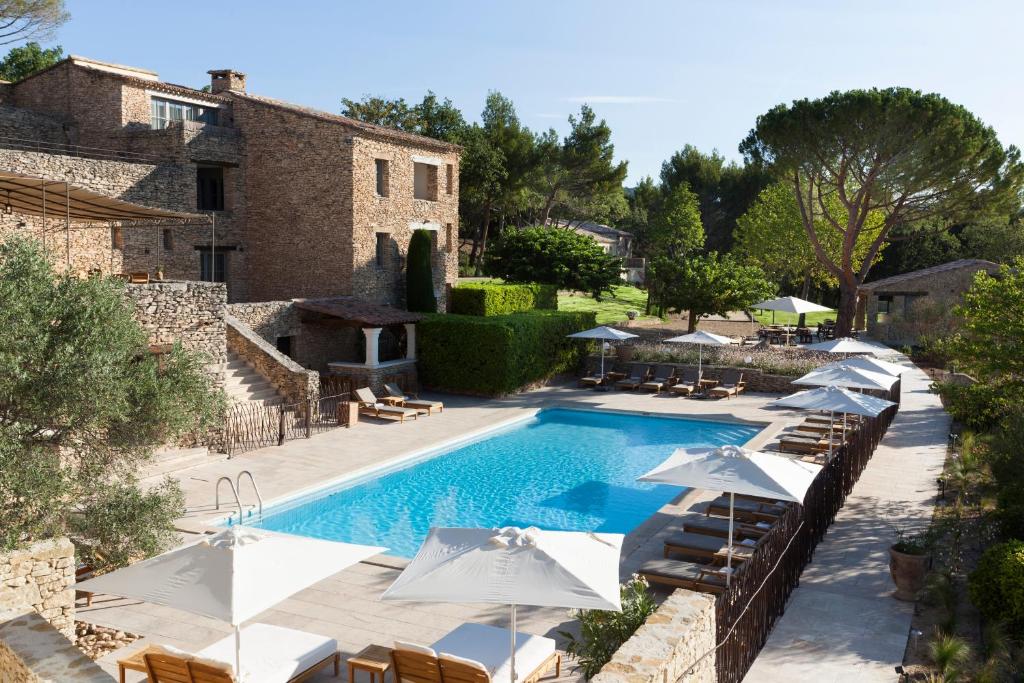 ---
11. Le Phébus & Spa – Relais & Châteaux
Le Phébus is located between Roussillon and Gordes, in the heart of the Luberon Reserve in Provence, in the beautiful countryside overlooking the valley. Le Phébus is a hotel with a rich history, restored on ruins that date back to the time of the Knights of Malta. It is a jewel and an ideal place to escape both the sultry heat of summer and the winter wind of the mistral. Located in a dry stone farmhouse, Le Phébus & Spa offers some 30 elegant suites to relax in, the ILA & Végétalement Provence wellness center is the ideal place to relax with treatments based on lavender essential oils. And then there's the Michelin-starred gourmet restaurant, which will please those who love gourmet food. Here is the traditional cuisine, but with modern twists, which opens up a new life – the old Provencal recipes. For example, "soupe au pistou" (soup pistou) is a local vegetable soup with garlic and basil. Luxurious, calm, sensual. Three words that perfectly describe the spirit and charm of this upscale establishment. Michelin-starred chef Xavier Mathieu works in the kitchen and Romain Marlet works in the cellar, offering tastings of regional wines along with traditional dishes.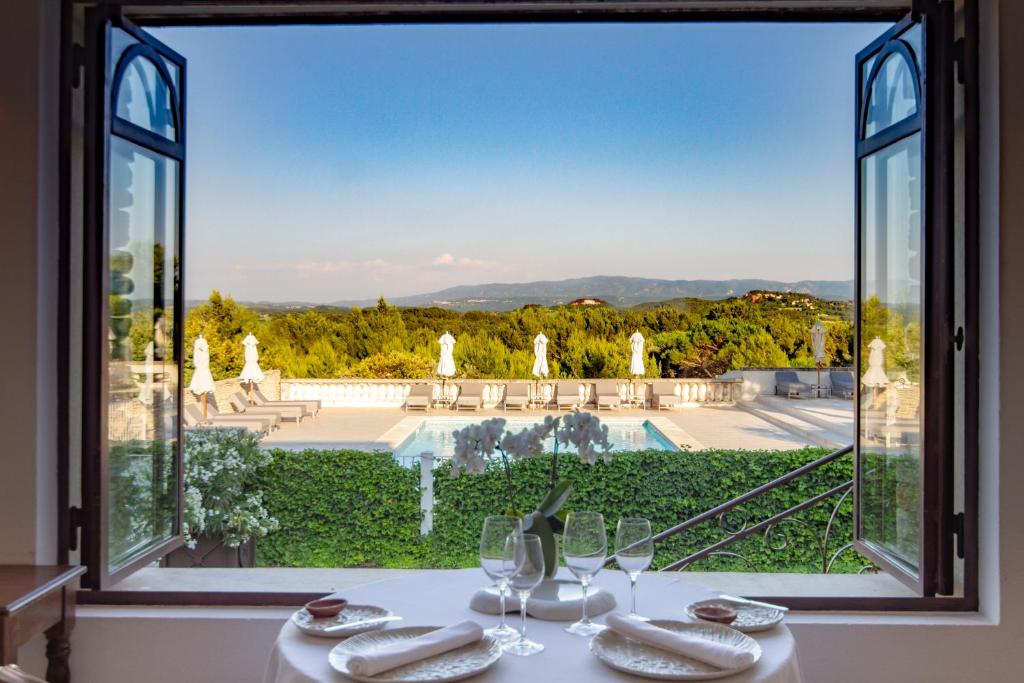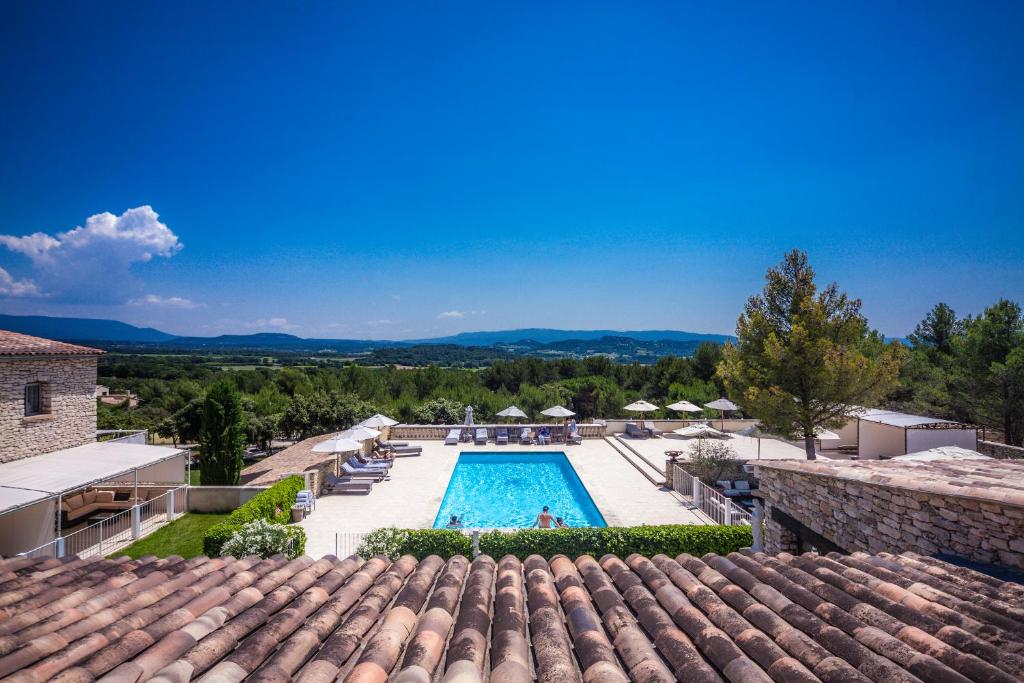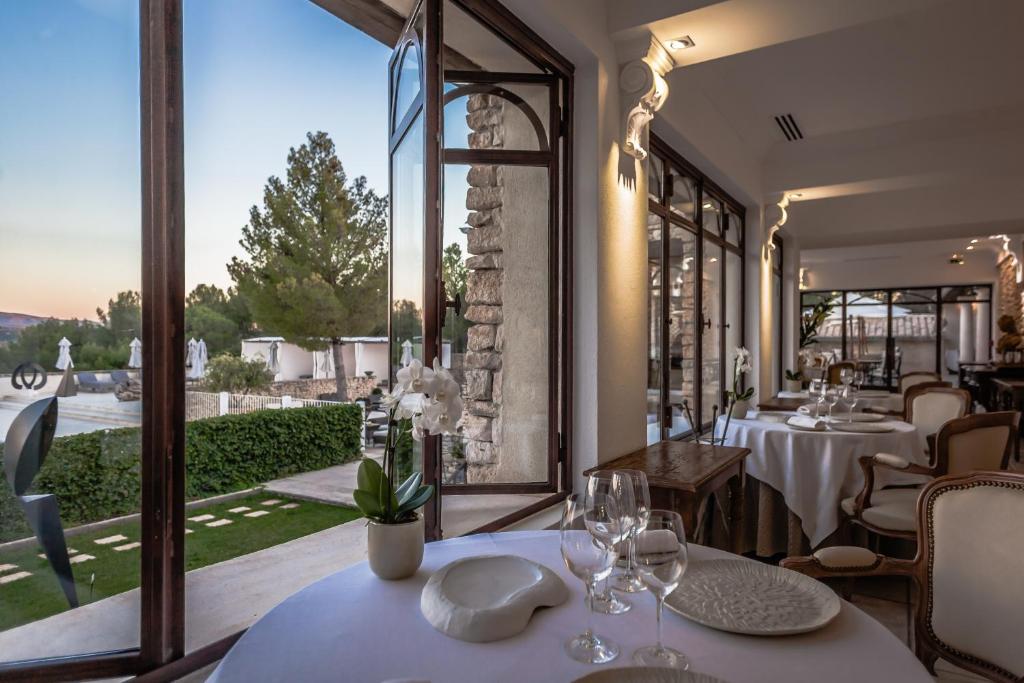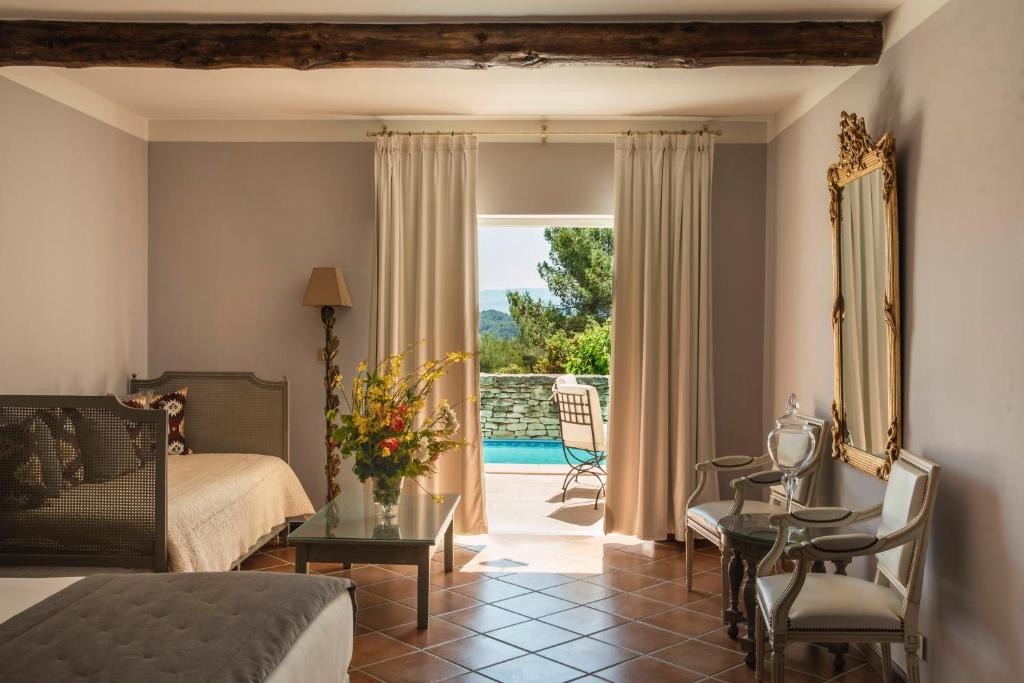 ---
You may have already met this luxurious chateau in Instagram. Le Mas des Poiriers is an 18th-century farmhouse in Provence near the medieval town of Avignon. And it's no ordinary hotel. It's a house that can only be rented in its entirety for vacations. But I couldn't help but mention it, as it is incredibly beautiful and aesthetically pleasing. It is a house with 26 acres of land for true privacy and seclusion. Le Mas des Poiriers is only available for weekly rentals and during certain weeks of each year, the rest of the time the family who owns the estate lives there. By the way, you would be surprised, but they are not French, they are Americans! Oh, how many Americans live here. And as I said above, the house is rented in its entirety, with seven bedrooms in the main house and two bedrooms in the cottage. It is fully staffed (including housekeeping, laundry and chef services). The price is not small, in 2023 it starts from 95,000 euros per week plus 10% VAT. But look at the pictures and you will not be left indifferent!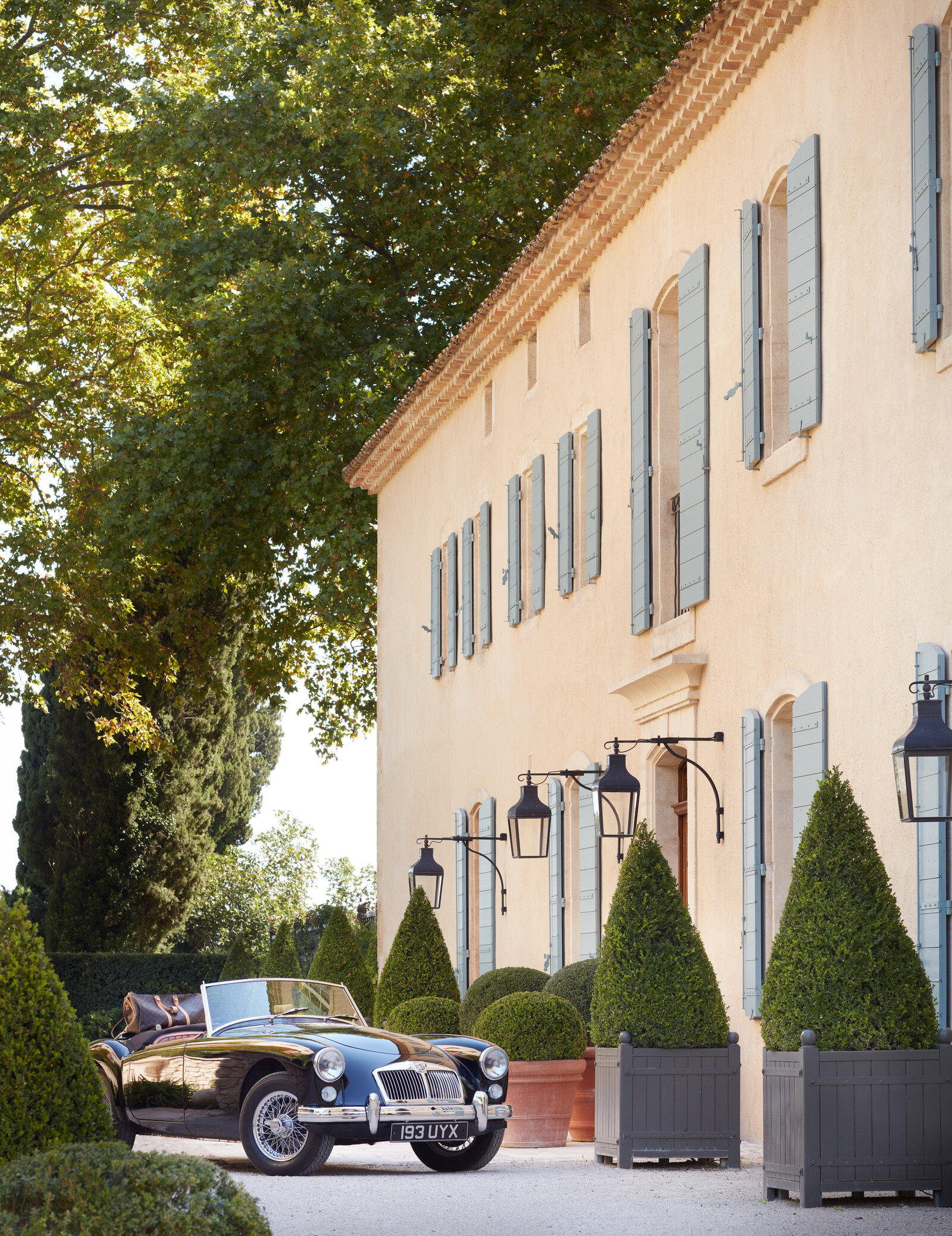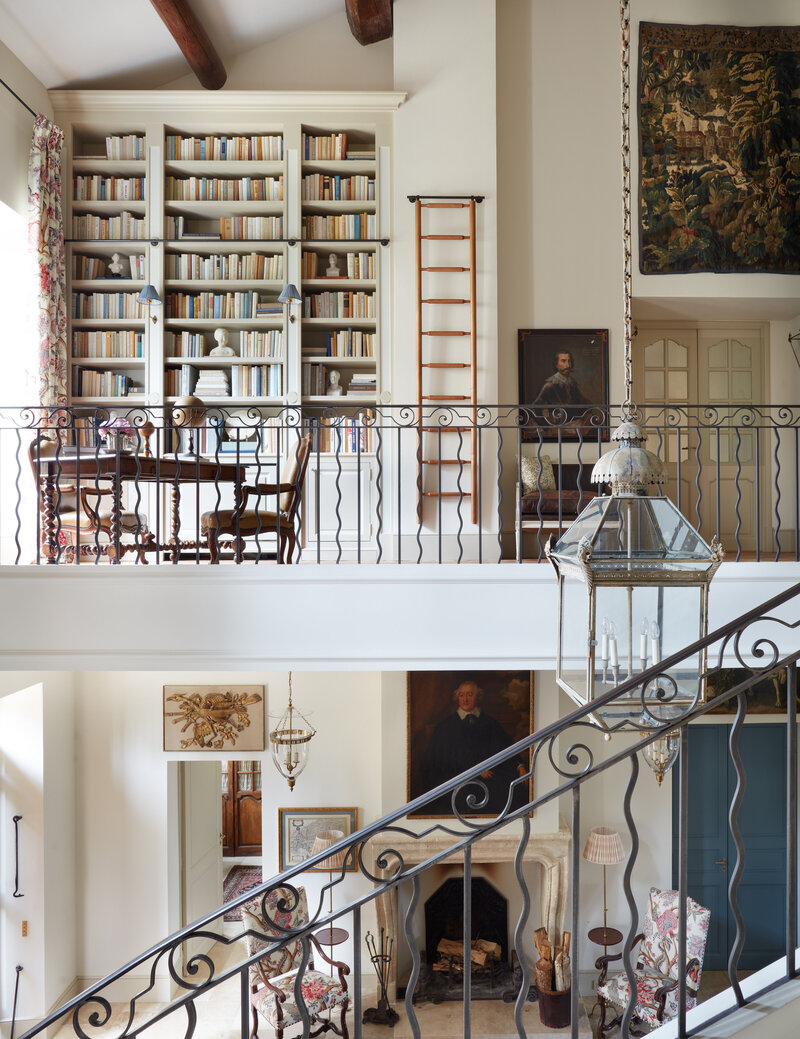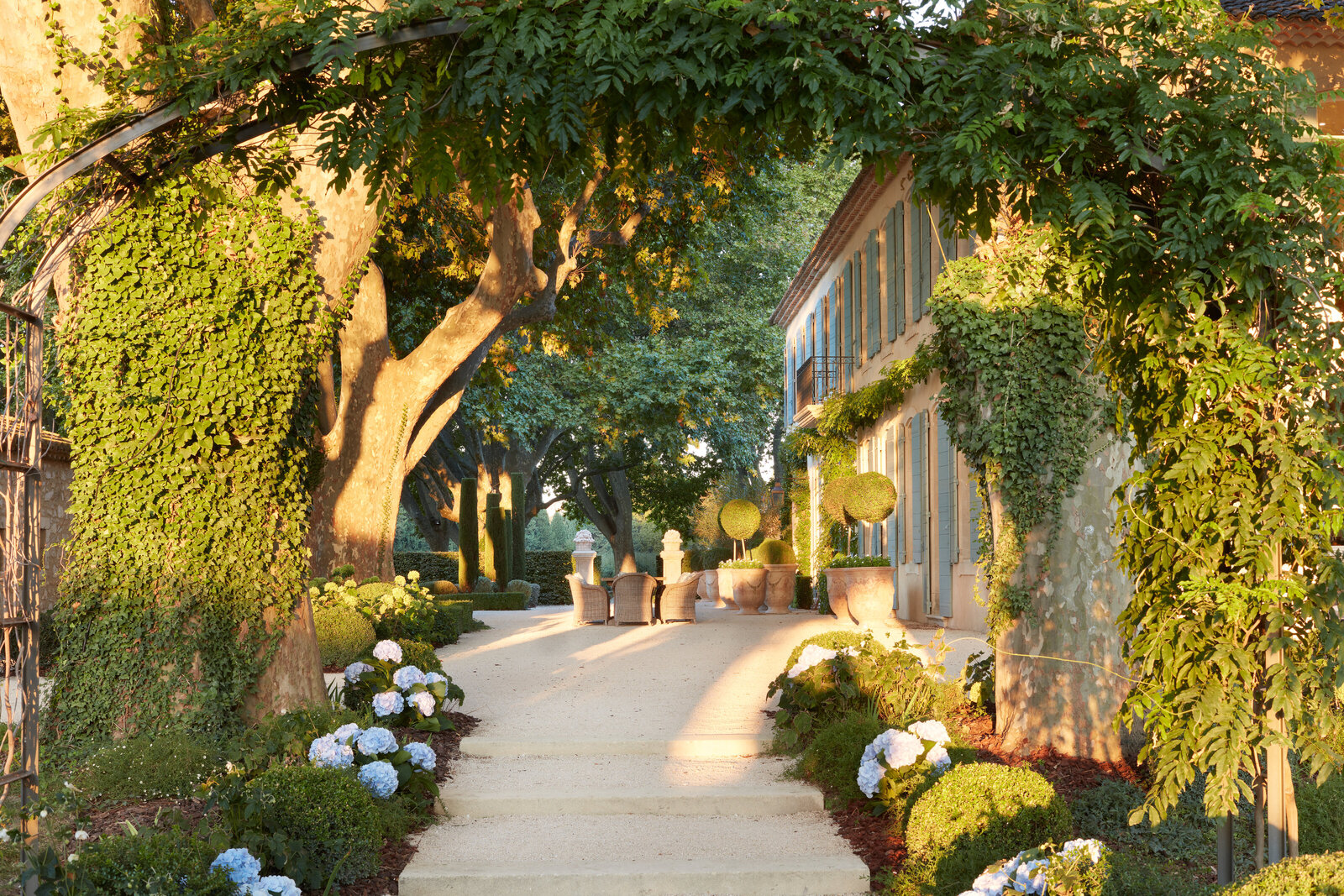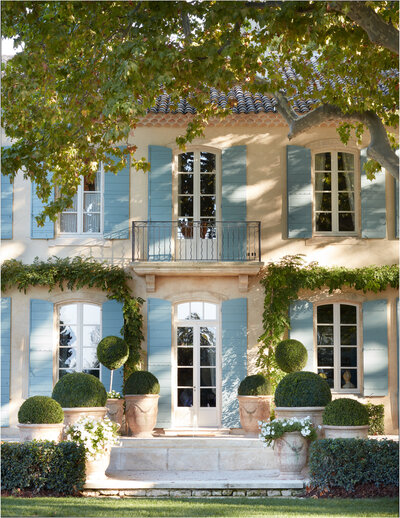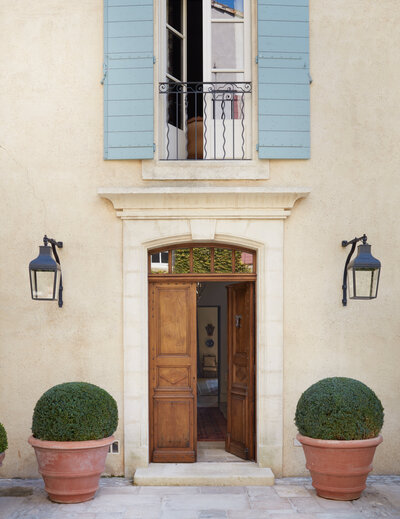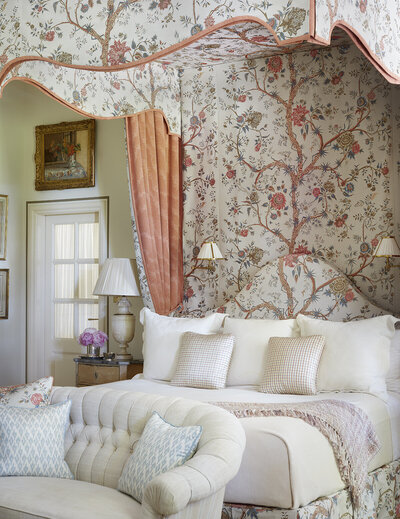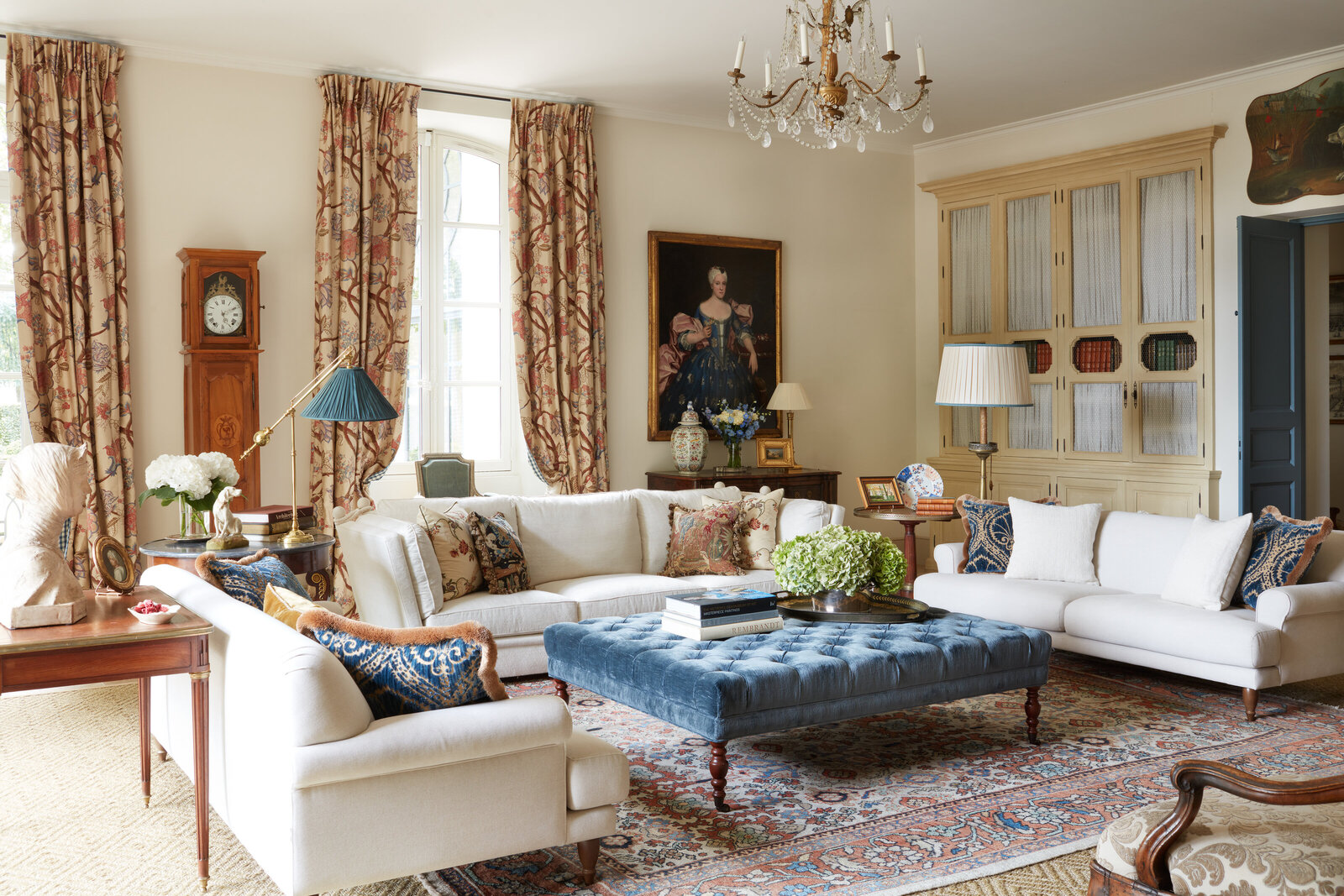 ---
Côte d'Azur
Thanks to guests such as Elizabeth Taylor and Winston Churchill, its unique location overlooking the Mediterranean Sea and its palatial scale, the Four Seasons Grand-Hotel du Cap-Ferrat has been the epitome of Côte d'Azur elegance for over a century. The luxurious rooms offer views from Nice to Monaco and are always at the center of attention on the French Riviera. The Michelin-starred restaurant, famous for its Provencal and Mediterranean cuisine, and the lively pool are always in the spotlight. The hotel is also home to the famous Beach Club, where you can rent a private pavilion or simply relax on a sun lounger while enjoying the Mediterranean views. And the legendary Club Dauphin pool overlooking the sea is one of the most impressive pools in the world. There's also the heated indoor pool at Le Spa, which is ideal for more athletic swimming. And one cannot fail to mention the award-winning spa complex, an abode of relaxation, health and mental balance. This is probably one of the most expensive hotels in my selection but it was impossible not to mention it.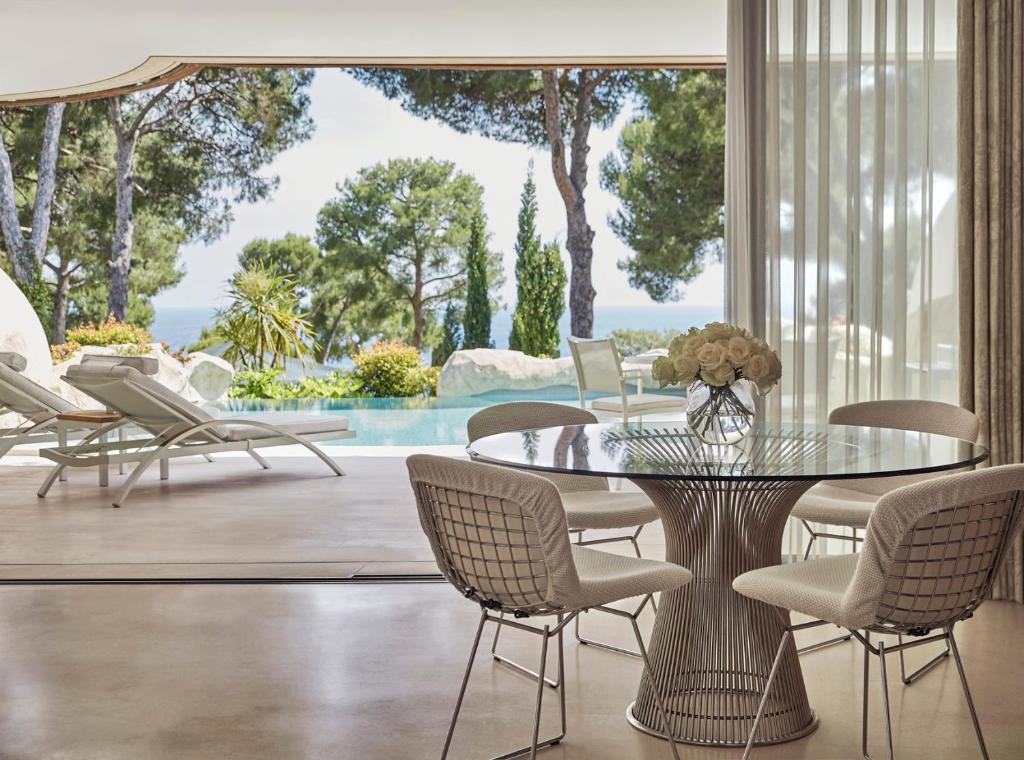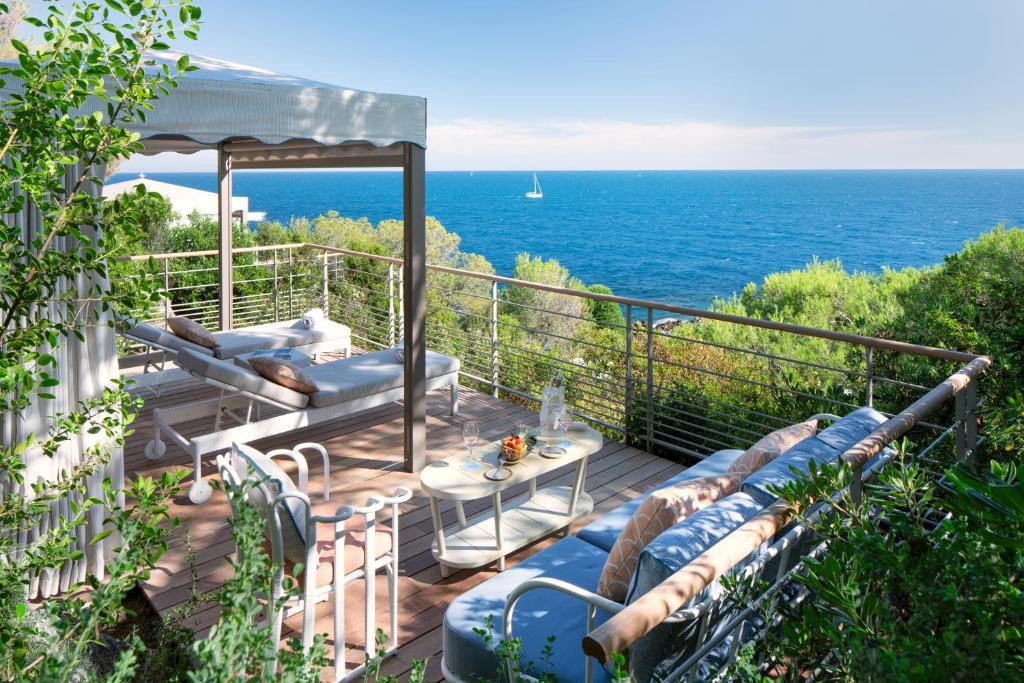 ---
La Chèvre d'Or is a veritable château suspended on the steep slopes of the French Riviera with dazzling views of the Mediterranean Sea. A hotel with different but stunning rooms, French gastronomy classics, and Mediterranean cuisine in one of La Chèvre d'Or's four restaurants, where magnificent views complement the pleasure of the meal. And immediately after dinner, you can explore the cobbled streets of the medieval village of Eze. An interesting feature of the hotel is that all the suites are named and decorated according to some composer, philosopher or writer who marked the place with his presence. Thus, you can find Nietzsche suites, Cocteau suites or even Luis Navarro suites. Journey through time in the footsteps of prominent visitors to this exceptional place.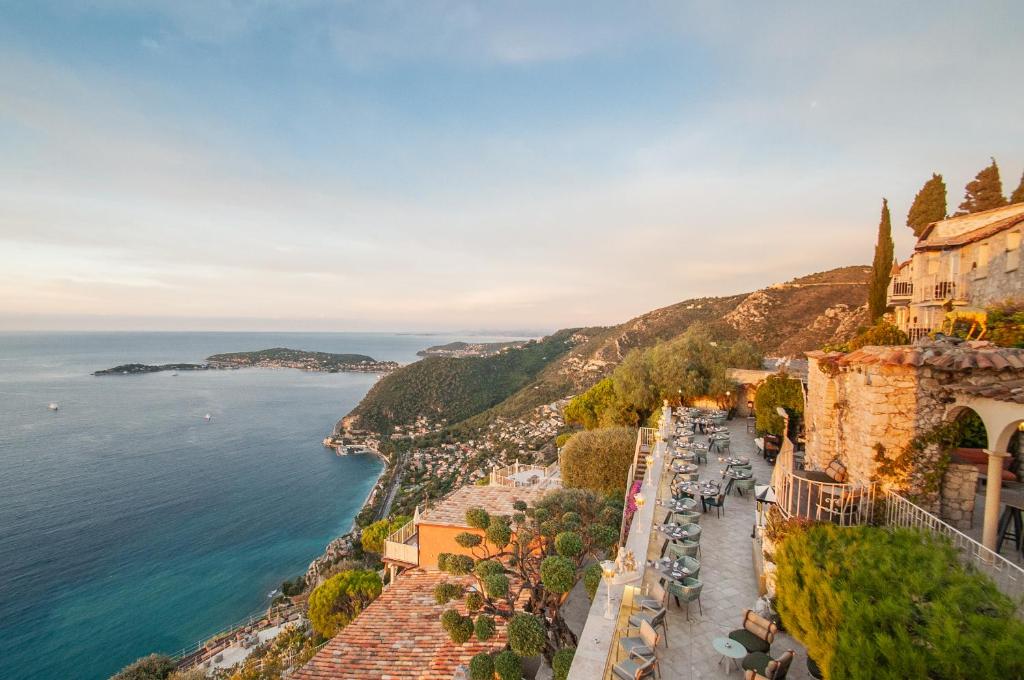 ---
The 5* Hotel Le Petit Nice has been a unique place in Marseille since 1917. "100 km from the noise, 5 minutes from the center", as the creator of Le Petit Nice said. The perfect tranquility of a luxury hotel in Provence, overlooking the sea, an outdoor saltwater pool, and the promise of harmony and tranquility in the 19 rooms of Le Petit Nice's two villas. Gérald Passedat wanted spacious and bright rooms with soft decor, few dividing walls and beautiful, simple and raw materials. And he succeeded, the hotel is incredibly gentle and cozy!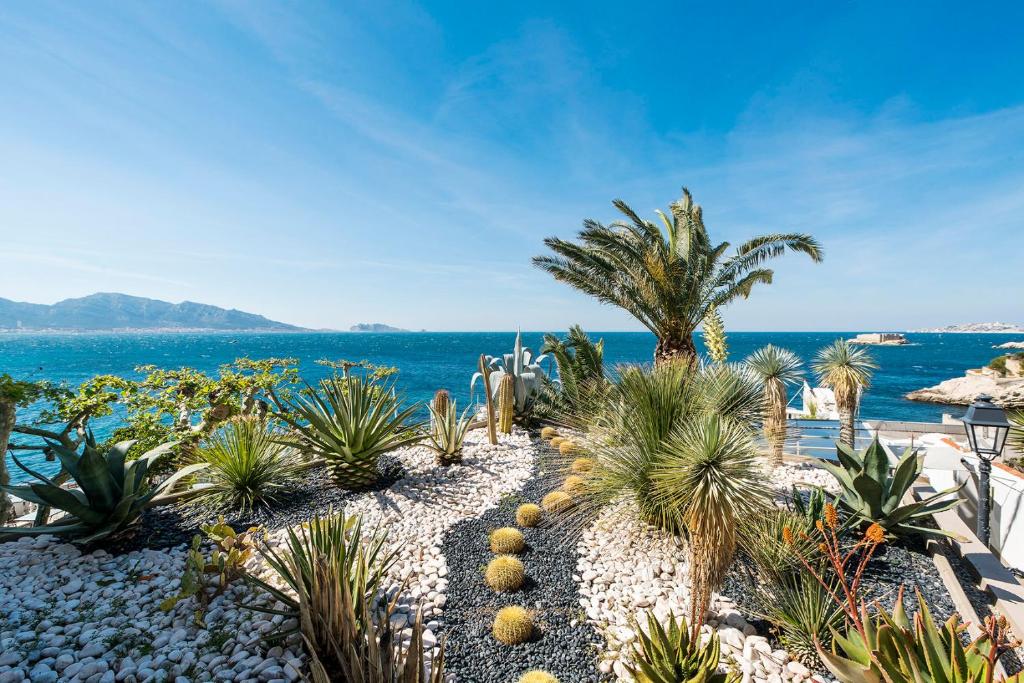 ---
15. Bastide Saint Antoine – Relais & Châteaux
La Bastide Saint-Antoine is a real gem on the Côte d'Azur, in the town of Grasse. Grasse is known for its superb perfume production, for which it is also called the "city of flowers/spirits". Figs, lemon and about 60 other varieties of citrus fruits blend in a bright explosion of fragrance and color. There are 1,200 olive trees with a 2,000-year history, whose fruit is used to make delicious Provencal olive oil. It can be found on tables during lunches and dinners. The 16 rooms and suites invite guests on an unforgettable journey. You can choose between two atmospheres: Provencal elegance or modern sophistication. The hotel is also famous for its "crazy" restaurant La Bastide Saint-Antoine, part of the Grandes Tables du Monde, where flavors, aromas and colors compete in boldness and sophistication. The restaurant is staffed by a true virtuoso of taste – Chef Jacques Chibois. For more than 25 years Bastide Saint-Antoine is also proud of its contribution to the development of winemaking in France. The cellar contains over 1,000 varietals and 25,000 bottles!

---
Halfway between Nice and Cannes, in a place where the Mediterranean Sea takes center stage, the Cap d'Antibes Beach Hotel is a gem of modern architecture. Its minimalist lines blend perfectly with the lush Mediterranean vegetation, the charm and freshness of the garden by the sea, the beautiful private sandy beach overlooking the Lérins Islands and the delightful infinity pool. The original decor of the rooms and suites takes guests on a sensual journey. The enchantment continues at Les Pêcheurs restaurant, overlooking the sea and the Esterel mountain range. A veritable feast of taste. The chef offers upscale, delicate and refined cuisine made with seasonal products from local producers with whom he works hand in hand.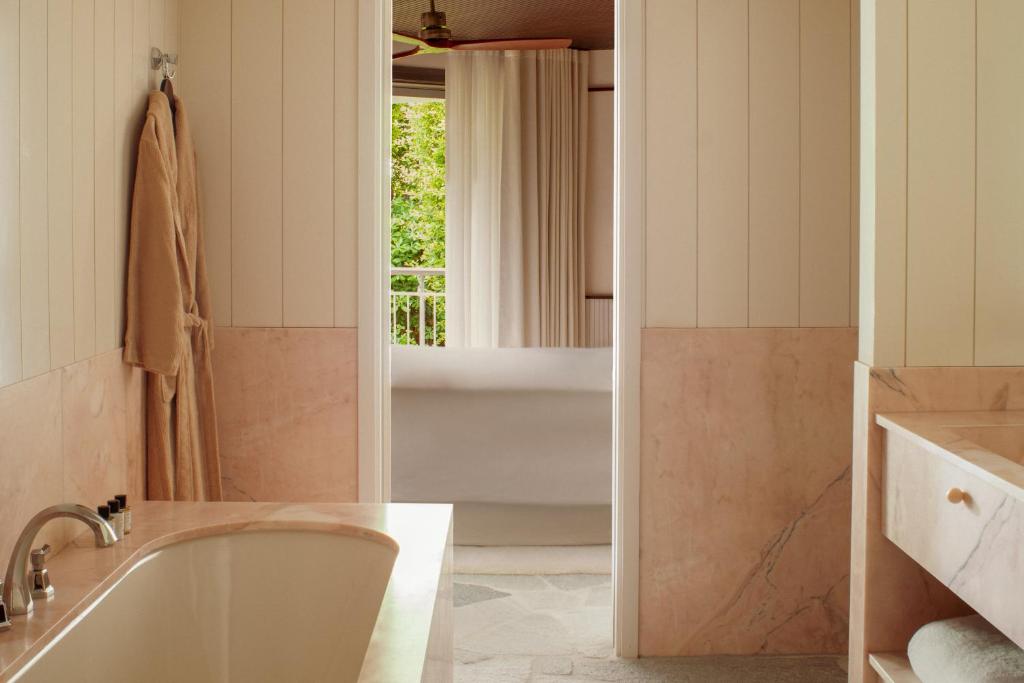 ---
All photos are taken from Booking.com
Which hotel did you like best?